Land Rover Maintenance Schedule

Your Land Rover is designed to help you soar down the roads of Albuquerque, Rio Rancho, and South Valley with outstanding performance and top-notch handling. And to ensure that every inch of your dynamic SUV continues to move like a champion, it's essential to seek out regular maintenance.
Luckily, we're here to help you stay in pace with routine checkups and service with this Land Rover Maintenance Schedule created by Land Rover Albuquerque. By reviewing this comprehensive guide, you'll keep your vehicle in the proper shape to tackle any obstacle on the road.
Land Rover Discovery Sport Maintenance Schedule
12-Months or 15,000 Miles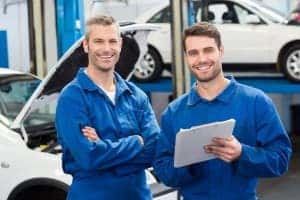 The first visit to a trusted service center will consist of a few basic checks and replacements. For example, your Land Rover will receive an engine oil and oil filter replacement.
By doing so, you'll drive down the highway knowing that your engine won't be damaged due to old or corroded engine oil.
And to keep the sleek cabin of your car filled with allergen-free air, your Land Rover service technician will also replace the pollen filter. That way, you won't experience frustrating sneezes or sniffles as your trying to focus on the road ahead.
In addition, your SUV will be equipped with a check of its lights, warning indicators, and signals. With this added perk, you'll always know that your vehicle is ready to take on your route with all its accessories and controls working correctly.
24 Months or 30,000 Miles
On top of all the inspections and replacements offered up during your first appointment, your 2-year appointment will add in a few other items.
After you drop your Land Rover off at your service center, it'll see a few new checks like a safety verification of the seats and seat belts. Thanks to this inspection, you'll feel confident that your family will be kept safe in any type of situation.
If your Land Rover is equipped with accessories like the Super Charger safety belt, that will also be inspected during this appointment. That way, you'll make every turn knowing that you're protected inside the cabin.
36 Months or 45,000 Miles
Now that you've spent three years enjoying the potent performance of your Land Rover, it's time for your 36-month maintenance appointment. During this inspection, your vehicle will receive all the same replacements it had at its first service visit, with the addition of a brake fluid change.
For most Land Rover automobiles, a brake fluid replacement is recommended at three-year intervals. By having your brake lines filled with new fluid, you'll be sure to be provided with immediate response from your brakes in emergency situations.
48 Months or 60,000 Miles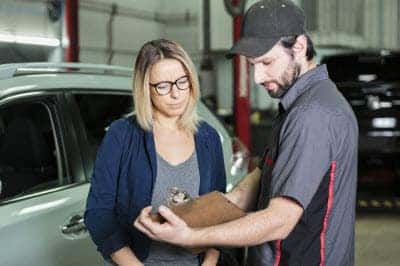 Finally, your 4-year service visit mimics much of the same replacements that your Land Rover received at its 2-year appointment, such as:
Engine Oil Replacement
Oil Filter Change
Seat and Seat Belt Security Check
Wipe Blade Inspection
Battery Check and more
However, the only difference during this maintenance checkup is that your powerful SUV will get an Air Cleaner Replacement inside its Engine Compartment. With this simple change, your motor will continue to perform like that of an experienced speed demon.
Schedule Your Service Appointment Today!
At Land Rover Albuquerque, we're familiar with going above and beyond your expectations during your visit to our maintenance center.
So, if you're determined to keep heads turning along the roads of Albuquerque, Rio Rancho, and South Valley with inspiring power, schedule a maintenance appointment today!
We're proud to serve our valued customers with compassionate support and care during every routine checkup and emergency repair.