How Often to Change Transmission

Your transmission plays an important role in the proper functioning of your vehicle. That's why servicing your transmission regularly throughout your vehicle's lifetime is imperative to keeping you on the road and on schedule. In this guide, our team at Land Rover Albuquerque will provide you with all the information you need to know about your transmission and how often it needs serviced. If you're a driver near Albuquerque, Rio Rancho, and South Valley, read ahead to learn more!
Common Transmission Services
The transmission itself never needs to be changed or replaced unless it's faulty or it breaks. However, many parts within your vehicle's transmission will need to be changed, replaced, and/or serviced throughout the lifetime of your vehicle. The most common transmission services are:
Transmission filter replacement: This is important as the transmission filter prevents any type of particle from entering the transmission and running amuck.
Transmission fluid replacement: The transmission fluid is what lubricates everything and assists in the cleaning process, so it will need changed to ensure it can do its job as effectively as possible.
Removal of grime & buildup: Getting your transmission cleaned will stop debris of any kind from building up and preventing your transmission from functioning properly.
Pan gasket replacement: Over time, this part of the transmission will wear down, crack, and cause transmission fluid leaks if it isn't replaced regularly.
Your vehicle will need to undergo these regular maintenance services every so often to keep it running in the same great condition you first drove it home in.
How Often to Service Your Transmission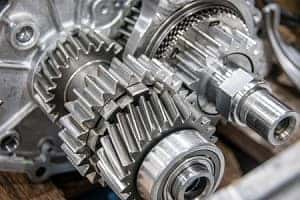 How often you need to service your transmission can vary depending on the vehicle you have as well as what kind of transmission it has. Automatic transmissions produce higher levels of heat which can pollute the transmission fluid with carbon quicker than a manual transmission would. It's for this same reason that most manufacturers recommend that your automatic transmission be serviced roughly every 50,000 miles. However, you'll want to consult with your owner's manual just to be sure.
The recommendation for a manual transmission is a bit different. Most manufacturers recommend that a manual transmission used in regular driving conditions should be serviced between every 30,000 and 60,000 miles depending on the make and model you have.
If your manual transmission is being used under high-stress conditions, though, you'll need to have it serviced as often as every 15,000 miles. High-stress driving conditions for manual transmissions include frequent short trips, stop-and-go traffic commonly found in cities, adventurous driving in the mountains or off the pavement, and being handled by a new driver who's just learning how to use a manual transmission.
Still Have Transmission Questions?
Now that you have a better idea about how often your transmission needs serviced, we at Land Rover Albuquerque are feeling confident that you'll know exactly when it comes time. Still have transmission- or service-related questions? We can help! Drivers around Albuquerque, Rio Rancho, and South Valley should give us a call today for more information or to schedule a service appointment.