How to Check Transmission Fluids
If you've noticed that your car is slow to shift gears or makes unusual grinding or squealing noises when it does shift, these could be signs that your transmission fluid is dirty or low. Our service center here at Land Rover Albuquerque is dedicated to making sure our fellow Albuquerque, Rio Rancho, and South Valley area drivers know what to do when these signs occur. That's why we've put together the following guide on how to check transmission fluids.
Before we get started, you'll need to make sure you have a clean rag, a funnel, and transmission fluid. When deciding which fluid to use, be sure to check your owner's manual.
Get a great deal when you need service with our Land Rover service specials…
Step 1: Start Your Car
Transmission fluid expands when it heats up. Accordingly, cold fluid doesn't have the same consistency as warm fluid and would likely appear to be misleadingly low. Since you want to get as exact a measurement as possible, the transmission fluid needs to be roughly the same temperature as it is when you're driving your car.
For most cars, the engine needs to be running the whole time you're performing your check. Although this is not the case with all cars, make sure you're following your owner's manual.
Step 2: Check Fluid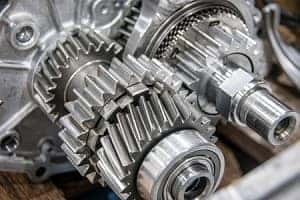 You'll find your vehicle's transmission dipstick in the area of the oil dipstick. Here's where you'll need that rag. Take the dipstick out and use the rag to clean it off. Open up the rag and check the fluid for the following signs:
Consistency. Transmission fluid is generally thinner than motor oil. However, it is normal for it to get thicker over time. What you're looking for here is debris or bubbles. Dirty fluid will need to be changed. Bubbles may be an indication that there's too much fluid or the wrong kind of fluid in your transmission.
Color. When it's healthy, your transmission fluid can vary from clear red to light brown. If it's dark brown or black, your car should be taken in for a service check.
Smell. If your fluid is healthy, you shouldn't be able to identify much of an odor. On the other hand, a burning smell could indicate transmission problems.
Once you have successfully checked the consistency, color, and smell of your car's transmission fluid, reinsert the dipstick.
Step 3: Check Fluid Levels
To check the fluid levels, take the dipstick back out and look for two lines. Your fluid should rest between the lines. If it's under the lower line, add more.
Step 4: How to Add Fluid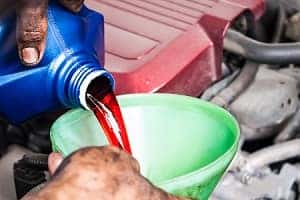 Line up the funnel and pour the fluid in slowly. Insert the dipstick and take it back out to make sure the fluid is between the lines.
Be Sure to Check Your Transmission Fluid
Ask a professional automotive technician if you have any questions about checking your car's transmission fluid.
For those of you in the Albuquerque, Rio Rancho, and South Valley areas who are having transmission troubles or would simply like to have your transmission fluid checked, be sure to get an expert opinion from our service professionals at Land Rover Albuquerque. Keep your vehicle running smooth, and schedule a service appointment today!