Drivers across Albuquerque, Rio Rancho, and South Valley know that regularly scheduled service is vital to keeping their ride at the top of its game, no matter which Land Rover or Range Rover model it may be. A big part of vehicle maintenance involves brake inspection and repair.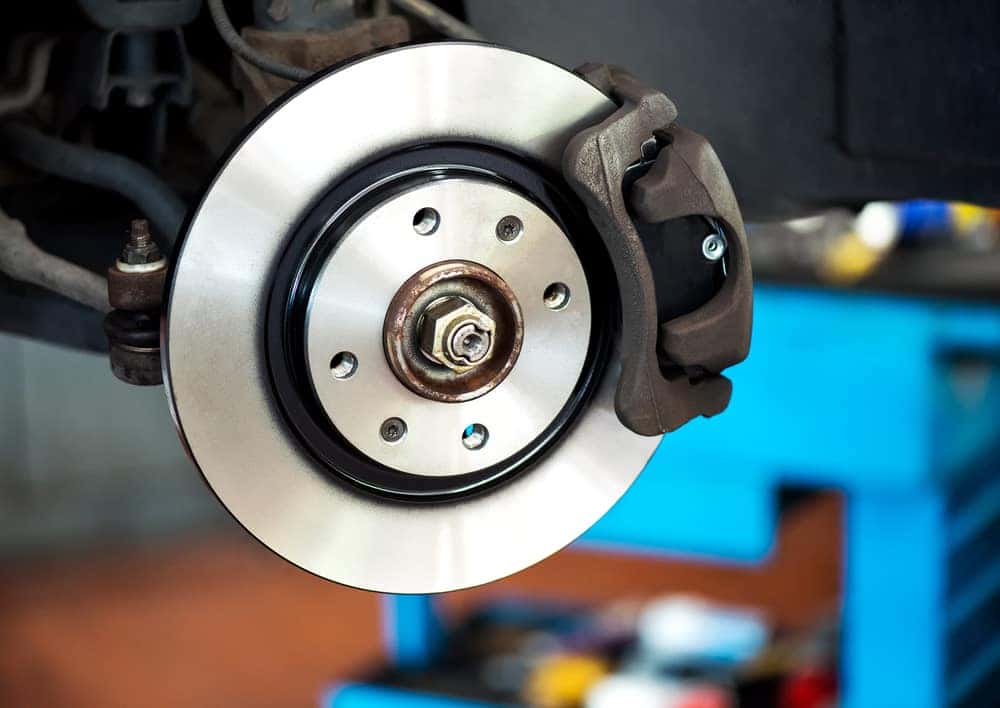 At this point, you may be wondering, how long do brakes last? Our team at Land Rover Albuquerque can help you figure that out. From brake pads to rotors, we'll give you the timeframes and signs that you need to replace every aspect of your brakes. Then, contact us when you're ready to schedule service in Albuquerque.
When to Replace Brakes
Trained auto technicians generally agree that brake pads last anywhere between 30,000 and 70,000 miles, but possibly longer or shorter in certain situations. If you have your brake pads inspected every time you schedule an oil change or tire rotation, you can spot issues and wear as early as possible and perform the required fixes. However, it's important to note that the lifespan of a car's brake pads is affected by a variety of factors. These include the materials of which they're made and your driving habits. Regardless, your brake pads will eventually start to wear thin. When this happens, your ability to stop your car is compromised, and new brake pads must be installed.
Signs You Need to Change Brake Pads
Another way to determine how long brakes last is by paying attention to warning signs of worn brake pads. If you press down the brake pedal and notice these signs, it's time to have your brakes inspected:
Car pulls to one side: This means that the brake linings are wearing unevenly. However, it could also mean that there's foreign matter inside the brake fluid.
Grinding, or squealing noises: If you hear a loud metallic sound, then there's a good chance that the brake pads are completely worn down. The noise is caused by the pad rubbing against the rotor, which are both made of metal. You'll want to replace the brake pads as soon as possible before they damage the rotors.
Vibration in the brake pedal: If the brake pedal vibrates when you push down on it, then the vehicle may be out of alignment. If it occurs when the anti-lock brakes aren't engaged, then it's most likely due to warped rotors.
Pedal pushes down closer to the floor: If the brake pedal feels soft or spongy, it means it'll sink to the floor when you press on it. When this happens, it could be from one of two issues. There could be air or moisture in the braking system, or there could be a problem with the master cylinder. Either way, your vehicle will need to be looked at right away.
Brake Repair FAQ
One reason your car is shaking could be from warped rotors. Braking removes materials from the discs, where the rotors are located. When the rotors get thinner, they're more susceptible to warping because of the heat that's generated from braking.

Squeaking brakes are often directly correlated with the need for a brake pad replacement. Hearing squeaking when you put your foot on the brake pedal is actually a function that's built into every brake pad in the form of a small metal indicator piece.
How Long Do Brake Rotors Last?
Brake rotors, on the other hand, can also wear out between 30,000 and 70,000 miles. However, you most likely won't need to replace them as frequently as the pads. That's because they're made of stronger material and don't endure as much wear from friction as the brake pads do. They'll need to be inspected at some point. Depending on the amount of wear, they can often be resurfaced by a technician, who can grind down the rotor surfaces to smooth and flatten them out again. If you feel vibrations coming from your brakes when you apply a lot of force to the pedal, your rotors are likely warped and will need to be repaired or possibly even replaced.
Brake Pads vs Rotors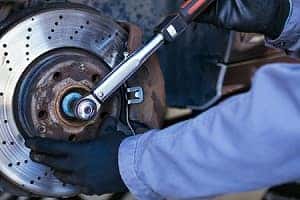 A braking system consists of many moving parts, which the major ones being the aforementioned brake pads and brake rotors. When you step on the brakes, a lever pushes a piston into a master cylinder. The cylinder is filled with hydraulic fluid that squeezes the calipers. The brake pads sit in between the calipers and the rotors. They then clamp onto the rotors to slow the spinning of your tires and bring your car safely to a stop. Brake pads almost look like the heel of a shoe and come in various types like organic, ceramic, and semi-metallic. Brake rotors, meanwhile, are shaped like flat circular discs and are usually made from steel and iron. We mentioned above that the rotors may need to be replaced at some point. If that's the case, you'll always want to use high-quality rotors. Otherwise, they can overheat faster and warp more often.
Schedule Brake Repair in Albuquerque Today!
A set of reliable, high-functioning brakes is vital for keeping you, other drivers, and pedestrians safe when you're behind the wheel. If you need to schedule brake repair, you can do it at the service center at Land Rover Albuquerque. Our team of factory-trained technicians has the state-of-the-art technology and skills to repair or replace every part of your braking system. They can advise you on whether your brakes need immediate repair or have a long life ahead of them. Get the peace of mind you need to feel secure on your drives through South Valley, Rio Rancho, and Albuquerque with a brake repair today.