Why Change Transmission Fluid?

Your Land Rover vehicle's transmission is a complex set of moving gears that transfers the energy created inside the engine to your tires. Transmission fluid is used to lubricate these gears while protecting them from premature wear. Over time, this fluid will begin to break down and need to be replaced to ensure optimal performance.
At Land Rover of Albuquerque, our service center is committed to drivers throughout Albuquerque, Rio Rancho, and South Valley by providing helpful resources that cover a wide range of services. To see how simple our Land Rover transmission fluid replacement service can be, continue reading before scheduling an appointment and contact us with any questions.
The Importance of Changing Your Land Rover Transmission Fluid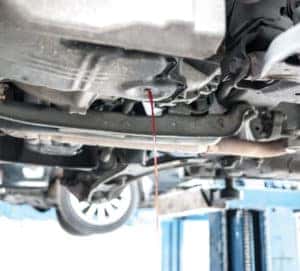 If you're like most drivers in America, your vehicle probably uses an automatic transmission. In this case, transmission fluid also serves as an important coolant, keeping your gearbox from overheating while ridding it of any harmful particle buildup.
Like engine oil, transmission fluid will begin to deteriorate the longer it's exposed to high temperatures. If you live in a high traffic area or regularly haul or carry heavy loads, these conditions can accelerate this process. If ignored for too long your vehicle can start to experience several issues including:
Gear slippage
Engine surging
Weak acceleration
Sluggish shifting or stalling
How Often Should I Change My Transmission Fluid?
While your Land Rover is a vehicle that's engineered to go the distance, regularly scheduled maintenance is still needed to maintain its high safety standards and to avoid any unexpected issues while on the road.
Depending on the type of transmission your vehicle uses, it's smart to plan on replacing your Land Rover vehicle's transmission fluid every 2-4 years. Mileage is another easy milestone and will depend on your current setup:
Every 30,000 – 60,000 miles for a manual transmission
Every 60,000 – 100,000 miles for an automatic transmission
Save on your next transmission fluid replacement with our Land Rover Service Specials.
How Do I Check My Land Rover Vehicle's Transmission Fluid?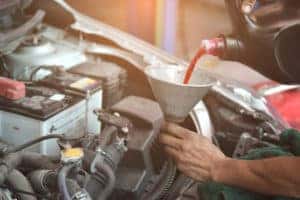 If you prefer handling your own maintenance, you'll be pleased to know that checking your automatic transmission's fluid is typically a simple process. On the other hand, drivers who use a manual transmission may experience some difficulty without the proper tools and setup.
In this case, we advise letting one of our certified technicians assist you. To check your automatic transmission's fluid, all you need is a shop rag and a level parking spot. It's advised that you park your Land Rover in a well-ventilated area, as you'll need to run the engine.
After letting the engine run for a few minutes, open the hood and using the shop rag perform the following:
Remove the Dipstick.  Generally, front-wheel drive vehicles place the dipstick on the driver's side toward the front of the engine. Rear-wheel drive usually places the dipstick on the passenger side toward the back of the engine.
Inspect for Color and Consistency. Healthy fluid should be odorless and appear pink or translucent in color.
Check the Fluid Level. Wipe the dipstick clean and return it back into its holster. Remove the dipstick again and look to see if the fluid reaches the full-line toward the bottom of the stick.
Schedule Land Rover Transmission Fluid Replacement Today!
If your transmission fluid is reaching its mileage mark or appears thick and discolored, simply stop in or schedule a service appointment at Land Rover Albuquerque.
Our highly skilled team is ready and waiting to assist you with all your scheduled service and repairs and get you back on the roads of Albuquerque, Rio Rancho, and South Valley.