Signs You Need an Oil Change

Drivers near Albuquerque, Rio Rancho and South Valley should be aware of a lot of aspects to routine vehicle maintenance, from regular tire rotations to brake inspections. Our team at Land Rover Albuquerque believes one of the most crucial is the oil change.
Oil helps keep the engine lubricated, so the metal parts inside can do their job more effectively. The signs you need an oil change are many and varied, and they're listed for you below. Pay attention to all of them, and you'll avoid engine trouble down the road.

Dark & Coarse Engine Oil
When you fill your car's oil tank with fresh, clean oil, it should have a transparent, light brown color to it and a fluid consistency. Over time, as it becomes contaminated and breaks down, it will lose transparency and turn black and gritty.
You can check the color and consistency with the oil dipstick. Simply remove it from your oil tank, wipe it down, replace it, wait for a minute and then remove it again to examine the oil film on the end. If it seems dark and coarse, have an oil change performed.
Low Engine Oil Levels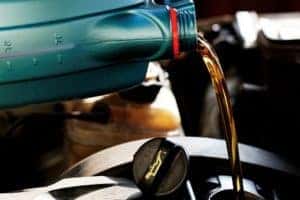 You can kill two birds with one stone by checking oil levels while you're examining color and consistency. Just read the oil levels at the end of the dipstick and determine whether more oil is needed. Most dipsticks will be marked in two places, for maximum and minimum oil levels.
If the oil levels are low but the oil quality (color and consistency) looks good, you don't need to drain what you already have in the tank. Just top it off with more fresh oil and go on your way!
Strange Sights, Smells and Noises
Pay attention to your five senses when it comes to deciding whether you need an oil change. Make time for one right away if you notice the following signs:
Cabin Smells Like Oil (and Gasoline/Exhaust).
Loud Engine Noises (Grinding, Rumbling, Roaring).
Thick Smoke Emitting from Tailpipe.
Manufacturer-Recommended Maintenance Schedule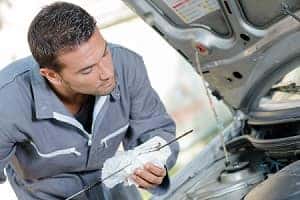 If you're not in the habit of reading the servicing schedule recommended by your vehicle's manufacturer (which typically can be found in your owner's manual), it's easy to overlook this sign. But as a preventative step, it can save you engine troubles that may result if you wait for last-minute warning signs, like engine grinding and exhaust smells.
Many manufacturers recommend an oil change every six months or 5,000 miles. If you follow the outlines in your schedule, you can stay ahead of the game when it comes to oil changes and caring for your engine.
Schedule Your Oil Change at Land Rover Albuquerque
There are plenty of signs you need an oil change, which is helpful, because you need to notice only one before you schedule your next maintenance appointment. If you notice signs you need an oil change, just visit our service center at Land Rover Albuquerque.
Our technicians will get you in and out as quickly as possible, so you can take on the roads of Albuquerque, Rio Rancho and South Valley!