Range Rover vs Discovery

Land Rover has been known for decades for producing reliable, stylish, powerful vehicles that continue to be the go-to luxury SUVs for drivers in Albuquerque, Rio Rancho, and South Valley.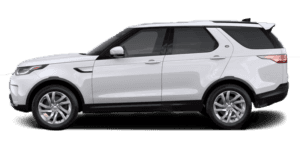 And now, with a number of great Land Rover models to choose from, our team at Land Rover Albuquerque has put together this comparison of the Range Rover and Discovery, so that you can see for yourself what's what in each model, and which one will work best for your lifestyle.
Range Rover vs Discovery: The Basics
Land Rover hits the nail on the head with its models by providing a vehicle uniquely designed for each individual lifestyle. The Range Rover and Discovery are great examples of this concept, as the Range Rover is the epitome of luxury in terms of style, while the Discovery provides a more practical feel.
Both vehicles are categorized as Luxury SUVs, but differ when it comes to size categorization—the Range Rover is considered a large SUV, while the Discovery is a midsize SUV. And of course, both have awesome off-road capabilities that gave the Land Rover its tough, but pretty, reputation decades ago.
Range Rover vs Discovery: The Details
Now that we've skimmed the surface of these two luxury cruisers, let's get down to the details.
Seating and Interior:
The Land Rover Discovery can seat up to seven passengers with its optional third row, while the Land Rover Range Rover has seating for up to five riders. High-end materials make up both cabins, with that extra sleek look inside the Range Rover, thanks to leather upholstery, aluminum trim, and wood accents.
Engine Power:
The Range Rover offers three different engine options, including a 5.0L V8 that puts out up to 550 horsepower. The Discovery's base V6 engine puts out an impressive 340 horsepower, but also offers a turbodiesel option that puts out 254 horses. In this case, it's really about your power preference.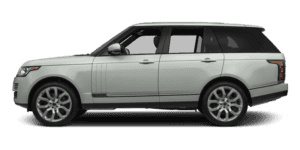 Off-Roading Capabilities:
We mentioned a little bit about the Land Rover vehicles' off-roading capabilities, but let's delve into that a bit more. Both the Discovery and Range Rover offer exceptional off-road performance, with available features that enhance the experience and get you cruising on any terrain.
Towing Capacity:
With off-roading capabilities and powerful engines, you might want to hitch up a thing or two on the back of these rides. The Discovery can pull up to 8,201 pounds, while the Range Rover can town up to 7,716 pounds. So, with either option, you can hook up the trailer or boat and get going to your next vacation destination.
Range Rover vs Discovery: The Conclusion
When you're deciding between the Land Rover Discovery and Land Rover Range Rover, it really comes down to personal preference. Essentially, the Range Rover offers more in terms of style and power, while the Discovery is a go-to for extra seating and better towing capabilities.
The best way to decide which Land Rover model is right for you is by taking them for a test drive. Contact us at Land Rover Albuquerque, and we'll get you set up with your favorite models today!