Range Rover Sport MPG

If you're the adventurous type, you'll no doubt want to spend hours exploring Albuquerque, Rio Rancho, and South Valley. That's why it's great to have an SUV that's fuel-efficient and handles well on any type of road.
The 2019 Range Rover Sport is such a vehicle, and we'll tell you why below. Keep reading to learn the Sport MPG ratings and general performance specs. Then, feel free to contact our team at Land Rover Albuquerque to see the luxury midsize SUV in person.
Range Rover Sport Fuel Efficiency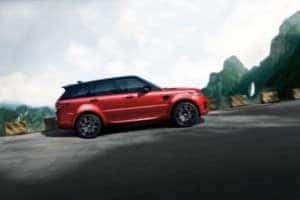 The 2019 Range Rover Sport efficiency all depends on which engine you opt for. Below are three ratings for the available engines inside the vehicle:
254 horsepower 3.0L V6 diesel: 22 city/28 highway MPG*
518 horsepower 5.0L V8: 17 city/22 highway MPG*
575 horsepower 5.0L V8: 15 city/20 highway MPG*
No matter which engine you choose, you can spend hours traveling around town before needing to fuel up again at the gas station.
2019 Range Rover Sport Plug-in Hybrid
If you want to enjoy long drives while helping to keep the air clean, the Range Rover Sport Plug-in Hybrid Electric Vehicle (PHEV) is a great option.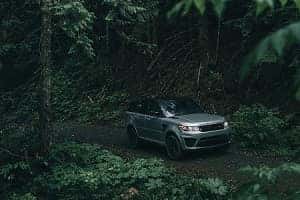 That's because the 13kWh capacity battery inside can give the car an all-electric range of up to 29 miles, with zero CO2 tailpipe emissions. Plus, you could get a full charge in as little as 2.75 hours with a 32-amp AC charger.
In addition, this model also comes with a 2.0L Si4 Ingenium Gas engine and a 105kW electric motor. The electric motor can supply its power alongside the engine, or it can operate by itself in the manually selectable Electric Vehicle (EV) mode.
There are actually a number of different functions that contribute to this vehicle's efficiency. One of them is the Predictive Energy Optimization function, which gets activated once you enter a destination into the navigation system. It'll utilize altitude data for your chosen route, and then switch between the electric motor and gas engine to optimize fuel economy throughout your commute.
General Performance Specs
The Range Rover Sport in general has an impressive performance. This is whether you're traveling around town or off the beaten path.
For on-road commutes, the SUV delivers agile handling, even on particularly winding roads. One way it does this is through Dynamic Response, a feature that improves vehicle handling through hydraulic roll control. By reducing body lean cornering, you get optimized on-road performance and passenger comfort.
Off-roading, though, is where this SUV really shines. It utilizes an Electronic Air Suspension that quickly changes the vehicle's height, allowing cross-linking of the diagonal wheels. This is so all four wheels are on the ground at the same time on very uneven surfaces.
The automobile also utilizes Low Traction Launch, which gives you optimum torque control when moving from a standstill. It can be activated on the touchscreen and will help you propel forward safely on slippery surfaces like mud or wet grass.
Test Drive the 2019 Range Rover Sport
While the Range Rover Sport MPG ratings are impressive, a test drive will ultimately tell you if this automobile is the right fit.
Schedule a test drive at Land Rover Albuquerque today, and see how far the 2019 Range Rover Sport can take you around Albuquerque, Rio Rancho, and South Valley.
*All figures are EPA fuel economy estimates. Actual mileage may vary.