Range Rover Evoque MPG

As someone who likes to explore all parts of Albuquerque, Rio Rancho, and South Valley, you need an SUV that can keep up.
One such vehicle is the 2020 Land Rover Range Rover Evoque, as it can take you on all kinds of roads for hours on end.
We'll tell you how in this guide to the Range Rover Evoque MPG. Read through the information below, then contact our team at Land Rover Albuquerque to see this automobile in person.
2020 Range Rover Evoque Fuel Economy Ratings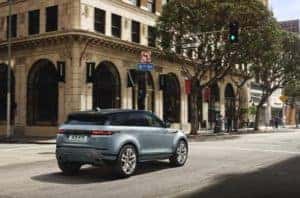 The 2020 Range Rover Evoque is highly fuel-efficient, no matter which engine you opt for.
If you get the 2.0L turbocharged 4-cylinder, you're looking at an EPA-estimated 20 city/27 highway MPG.* With the 2.0L turbocharged MHEV 4-cylinder, you'll get an EPA-estimated 21 city/26 highway MPG.*
No matter what, you'll have an SUV that can handle being on the road for hours before needing to be fueled up again.
In addition, there are many features that contribute to the vehicle's fuel efficiency, especially since it's available as a Mild Hybrid Electric Vehicle (MHEV).
MHEV is a mild hybrid system that harvests and stores energy normally lost during deceleration. It then intelligently redeploys the energy to help with engine efficiency.
This technology also incorporates an enhanced Stop/Start system. It allows the engine to shut down whenever you apply the brakes. As a result, you'll save on fuel economy and can drive farther for even longer.
Range Rover Evoque Reliability

The 2020 Evoque MPG ratings certainly contribute to its reliability. However, that's not the only thing that does.
The SUV comes standard in all-wheel drive (AWD), which features Driveline Disconnect technology. The vehicle can operate in front-wheel drive when cruising at a steady speed to reduce any drag losses. When AWD is needed, the driveline reconnects quickly to maintain optimal traction and handling.
Additionally, the Evoque is available with an Adaptive Dynamics system. It monitors wheel position and body movements. More specifically, it'll continuously analyze activities, such as the:
Acceleration
Steering
Throttle
Brake Pedal
Then, the electronically controlled dampers will adjust 100 times a second to give you both a supple ride and precise dynamics wherever you go.
Off-Roading Capabilities

While the Range Rover Evoque offers a dependable on-road performance, off-road is where it really hits its stride.
After all, it comes with Terrain Response® 2. This feature will automatically select the appropriate setting to help you maintain control in your current environment.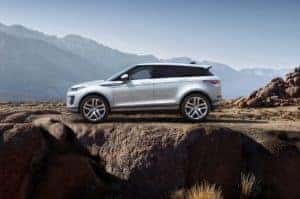 If that environment includes water, the available Wade Sensing system will kick in. Ultrasonic sensors in the door mirrors can detect when you're approaching a wading depth of up to 23.6 inches. It'll then send visual and audible alerts, so you can act accordingly.
Finally, the vehicle comes with features like All Terrain Progress Control. It works like a typical cruise control system except it's designed for lower speeds—between 1 and 18 MPH. You set a specific speed when driving on mud, wet grass, and other slippery surfaces. Then, the system will maintain that speed to keep you a safe distance from any cars in front of you.
Test Drive a 2020 Range Rover Evoque
Between the MPG ratings and other performance specs, this luxury subcompact SUV is ready for all kinds of adventures around town.
If you're wanting to experience the Range Rover Evoque efficiency for yourself near Albuquerque, Rio Rancho, or South Valley, don't wait. Schedule a test drive at Land Rover Albuquerque today!
*All figures are EPA estimates. Actual mileage may vary.