Range Rover Accessories

Your Range Rover is one impressive vehicle. Not only does it provide some powerful capabilities and top-notch features, but it also offers an array of available accessories that let you personalize it even more.
On this page, we at Land Rover Albuquerque will introduce you to some of the exterior and interior accessories you can use to customize your Range Rover. Drivers in Albuquerque, Rio Rancho, and South Valley should read ahead to get started and contact us with any questions!
Exterior Accessories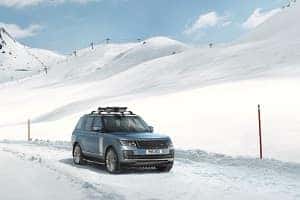 Your Range Rover is meticulously styled by the engineers at Land Rover. Kick style up a notch with one of the available exterior style or trim packs, such as the Dark Atlas trim pack or the SVO Design Pack.
For enhanced convenience, opt for one of the many available side steps to help you and your passengers get into your vehicle more easily. Choose between deployable side steps, fixed side steps, or bright side tubes. Even opt for a deployable side step kit.
Don't forget to check out the available exterior protection accessories. Specifically, if you're looking to keep your vehicle in pristine condition year-round, check out the mud flaps and all-weather car covers.
Carrying & Towing
The Range Rover was built with adventure in mind, which is why you can customize it to include an array of different carrying and towing equipment packages to customize your vehicle to fit your personal adventure needs. Opt for carrying features like…
Standard roof cross bars
An aqua sports carrier for kayaks, canoes and other small boats
A small or large sports roof box
A luggage roof box or carrier
A roof-mounted ski/snowboard carrier
A fork-mounted or wheel-mounted bike carrier
If towing is your main concern, you'll have just as wide of an array of accessories to choose from. You'll have your pick of towing receiver kits, tow hitches, tow straps, and a multi-height tow bar. You can even add a target tracking sticker for easier hitching.
Interior Accessories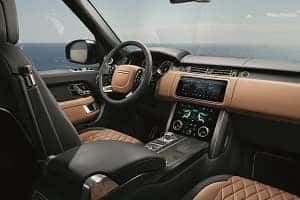 Inside Range Rover models, you have endless accessorizing possibilities. Make packing your enormous amount of cargo room easier with loadspace rails, a loadspace retention kit, and a collapsible luggage organizer.
However, the interior options don't stop there. This brand also has a plethora of fun entertainment and technology features that you can add, including a headrest-mounted iPad® holder for easy rear-seat entertainment and a wireless phone charging cupholder.
For all of your tailgating needs, you can also opt for a center armrest cooler/warmer box or an electric cool bag to keep your food and drinks at the right temperature. Don't forget to add ebony-leather-upholstered tailgate event seating, so everyone can be comfortable at your next outdoor event.
Ready to Order Accessories?
In this guide, we at Land Rover Albuquerque gave you an overview of just some of the accessories you can use to personalize your Range Rover. Drivers in Albuquerque, Rio Rancho, and South Valley who are ready to order Range Rover accessories should give us a call today to learn more about our extensive accessory inventory!