Mercedes G550 vs Range Rover

Finding the right luxury SUV is important to get the most out of your adventures throughout the picturesque Albuquerque, Rio Rancho, and South Valley area. Often, drivers are tasked with some tough decisions when it comes to choosing their vehicle by being torn between two distinctive high-end models. Drivers facing the decision of choosing between the Mercedes G550 vs. Range Rover don't have it any easier, but at Land Rover Albuquerque, we're here to help you take a crack at this decision.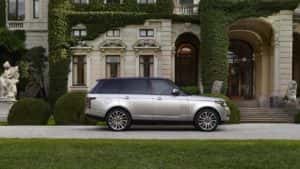 In our Mercedes G550 vs. Ranger Rover comparison, we'll explore a few different facets of each of these luxury SUVs to give you a better sense of what they encompass. You'll get a great look at the engine efficiency and capabilities, the sporty style and design, and even the features and technology. By taking the time to learn about what these two luxury SUVs offer, you'll be able to choose the one that's a better fit for you and your style.
Mercedes G550 vs Ranger Rover Efficient Performance & Abilities
Both of these stylish SUVs are known for their impressive performances. Each vehicle is equipped with a turbo engine, however, the Range Rover offers the option of a supercharged or Turbo Diesel engine while the Mercedes G550 simply offers the single engine option. In terms of fuel efficiency, the Mercedes G550 gets a meager EPA estimated 13 city/14 highway MPG. The Range Rover, on the other hand, surpasses in efficiency with an EPA estimated 22 city/28 highway MPG when outfitted with the Turbo Diesel engine. When it comes to towing, the Ranger Rover further cements its powerful position with a 7,716 lbs towing capacity which provides a little more pull than the 7,000 lbs towing capacity offered with the Mercedes G550.
Sporty Style & Design
You'll have no problem telling these vehicles apart because they have wildly different appearances. The Mercedes G550, in its purest form, resembles a box on wheels. It encompasses an old military style desert vehicle, but it just doesn't seem like the look a luxury SUV driver would go for with their next vehicle. The Range Rover has the sleek and alluring body that luxury SUV drivers seek out when they're in the market for a new ride. It features the refined front fascia with the mesh grille that simply complements its smooth surfaces and design approach.
Features & Technology
When it comes to the G550 vs. Range Rover, each vehicle encompasses premium sound systems to deliver crisp and clear audio entertainment with strategically placed speakers. The Mercedes G550 includes 12 speakers, while the Range Rover features 13 total speakers in its cabin. Both vehicles even feature high-resolution touchscreen displays for quick and easy access to the media features and apps. Each vehicle even features voice control, allowing for quick and easy audio selection without having to manually select the features from the screen.

Get Acquainted with the Range Rover
At Land Rover Albuquerque, we hope that this informative Mercedes G550 vs. Ranger Rover SUV comparison helped you distinguish these two luxury vehicles. You now know what these vehicles offer, and you're even aware of the key advantages that the Ranger Rover has in comparison with the Mercedes G550. But if you're still in the process of learning before you decide, we encourage interested drivers to come give the Range Rover a closer look and even take it out on the road for a fun and educational test drive.
Land Rover Albuquerque is proud to assist drivers in Albuquerque Rio Ranchos, and South Valley with the tough decisions they face when choosing the right luxury SUV.