Mercedes-Benz G-Class vs Range Rover


The Mercedes-Benz G-Class SUV is an iconic G Wagon complete with a signature box-like aesthetic and unmistakable Mercedes logo. The Range Rover SUV is an equally impressive British cousin that never fails to turn a head. So, which luxury large SUV will you choose?
Luckily, you've got the Land Rover Albuquerque team here to help you out. We created this Mercedes-Benz G-Class vs. Range Rover comparison for our friends in Albuquerque, Rio Rancho, and South Valley.
Keep reading to see what each automobile has to offer and feel free to contact us if you have any questions.
G-Class vs Range Rover Design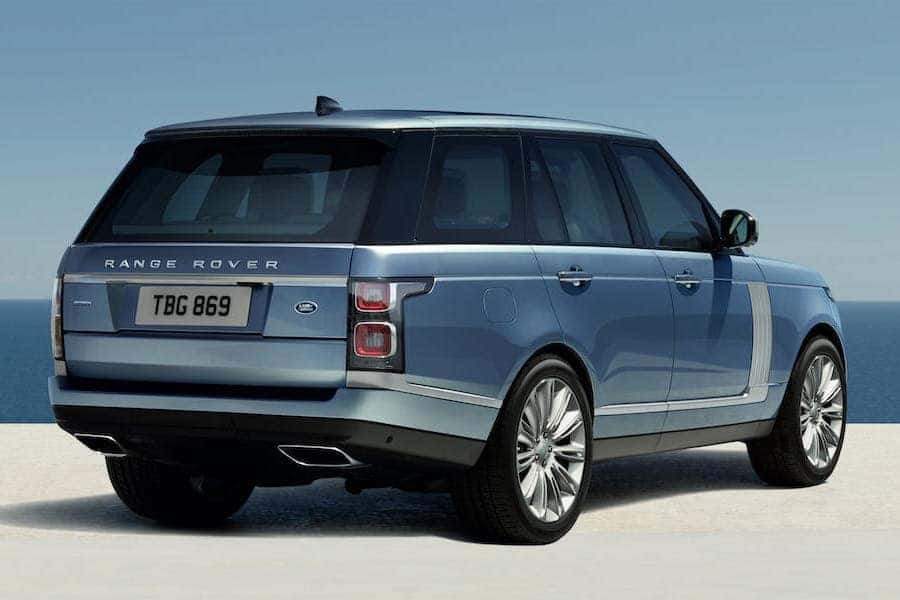 While the Mercedes-Benz G-Class does represent signature box-like aesthetic perfection to some, it may come off as too cubic to others. The fact of the matter is that this SUV looks like a perfect square, and it may not fit the taste of every driver.
On the other hand, you've got the sleek and stylish Range Rover. From its subtle roofline to a wrap-around waistline, this is a vehicle that was designed by those who are stylistically in the know. Plus, premium LED headlights and lower accent graphics don't hurt its exterior presence, either.
The Range Rover interior is just as impressive as its exterior. Between a cabin environment that was built with passengers in mind and ambient lighting that can be set to one of 10 colors, nobody will want to get out of the car!
Meanwhile, the G-Class interior has been completely redesigned. Every detail in the cabin has been handcrafted with the upmost care, with only top-quality materials being used throughout. However, its layout may not work as well for passengers as it could in the Land Rover model.
Passenger Room in the Mercedes-Benz vs Land Rover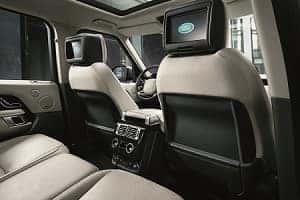 Everyone on board may be more comfortable inside the Range Rover. It easily seats five among two rows with lots of room to stretch out.
Up front, you get 39.4 inches of headroom and 39.1 inches of legroom. Then, in the back, you have 39.4 inches of headroom and 39.2 inches of legroom in the standard wheelbase model. However, it you opt for the long wheelbase, you'll get 39 inches of headroom and 46.8 inches of legroom in the back.
The seats themselves are high and well-padded, providing fine support and comfort for even your longest commutes.
The G-Class also has plenty of room for five people. While the seats are comfortable and supportive, many people feel that they don't quite live up to the standards of other luxury large SUVs, such as the Range Rover. As a result, you may not feel as relaxed in the Mercedes-Benz as you would in the Land Rover.
G-Class vs Range Rover Cargo Room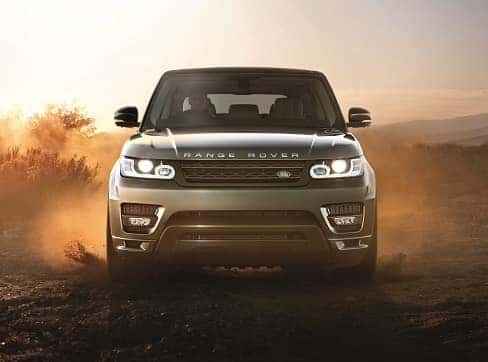 You'll also find better cargo options inside the Land Rover Range Rover. When the second row is folded down flat, you'll have 68.6 cubic feet to work with. Opt for the long wheelbase model, and that space expands to 75.6 cubic feet. So, if you need to pack shopping bags, luggage, or other items into the Range Rover, you'll have plenty of room to do so.
Additionally, this SUV has an electronic air suspension with a cargo function that'll lower the vehicle when parked—making loading items easier. There's also a standard hands-free liftgate that makes it easy to access the cargo area, even when your hands are full.
The 2019 Mercedes-Benz G-Class has lots of cargo room, too. However, the rear seats don't fold down flat, so the cargo floor is uneven. Plus, there are very few useful storage compartments in the cabin and a hands-free liftgate doesn't come standard.
Features Inside These Luxury Large SUVs
With the Range Rover and G-Class being luxury vehicles, you can expect there to be lots of impressive interior features, and you'd be correct.
They each come with lots of amenities to help keep everyone comfortable, such as:
Heated/ventilated front seats
Heated rear seats
Heated steering wheel
However, the Range Rover also offers ventilated rear seats. This is part of the available Executive Class Comfort package that gives backseat passengers the chance to kick back and relax. They can put their feet up on the footrest and take advantage of the 'Hot-Stone' massage function (which is also available for the front seats). Plus, the armrest and footrest can be heated to stay extra cozy on especially chilly nights.
The G-Class offers a massage function, too. However, it's not available to those sitting in the back. Plus, the vehicle unfortunately doesn't offer anything as extensive as the Executive Class Comfortable package in the Land Rover model.
Save on your next Range Rover with our new vehicle specials…
G-Class vs Range Rover Performance Specs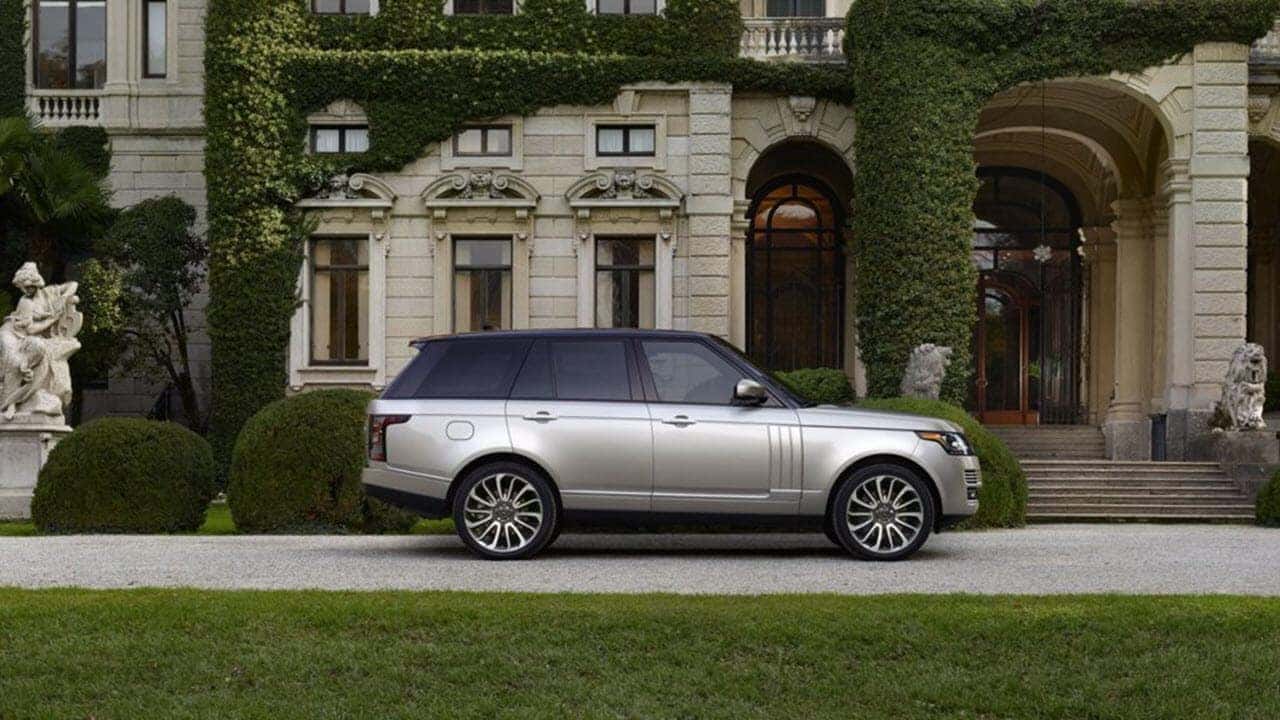 Of course, SUVs are meant for much more than just looking good and feeling good—they're meant for driving, too. We must admit that the G-Class does offer quite the engine with its Advanced V8 biturbo.
However, it's the Range Rover that really takes the cake in this department. Check out some of its specs!
Intercooled Supercharger Premium Unleaded V6 Engine: Delivers 380 horsepower and 332 lb-ft of torque.
Adaptive Dynamics: This system monitors your SUV's every movement, around 500 times a second. As a result, you'll have a composed, flat ride, no matter where you go.
Active Rear Locking Differential: For those crucial off-road experiences, you can look forward to limited wheel slip since this system will send torque to the wheels with maximum grip.
Furthermore, the 2019 Range Rover is quite fuel-efficient, achieving an EPA-estimated 17 city/23 highway MPG. Unfortunately, the 2019 G-Class achieves an EPA-estimated 13 city/15 highway MPG. As a result, you may need to refuel more often in the Mercedes-Benz than you would in the Land Rover.
Mercedes-Benz G-Class vs 2019 Range Rover: Verdict
When it comes to the Mercedes-Benz G-Class vs. Range Rover, the Land Rover model's design, features, and performance specs make it a great option for drivers like you around Albuquerque, Rio Rancho, and South Valley.
If you're ready to experience this luxury large SUV for yourself, then schedule a test drive at Land Rover Albuquerque today!