Land Rover vs Jeep

Are you looking for your next SUV that's capable of off-roading, yet family-friendly, and maybe even has a classy look? You've come to the right place! The Land Rover and Jeep models combine all these features in your next SUV.
To show you all the details of the Land Rover and Jeep models, our team at Land Rover Albuquerque has come up with this vehicle comparison of the two. You'll find specifics like interior design and space, technology features, engine power, and more, so you can decide for yourself which one suits your lifestyle the best.
Let's get started by checking out the interior space of the Land Rover and Jeep.
Land Rover vs Jeep: Interior Space & Comfort
When you opt for an SUV, odds are you're looking for a little more cabin space for you and your passengers. Let's compare the Land Rover Discovery and Jeep Grand Cherokee models in this category.
The Land Rover Discovery offers ample space, especially for backseat riders, with an optional third row to seat up to seven. Both the Discovery and Grand Cherokee provide at least 37.6 inches of legroom to stretch out, for second row riders.
In terms of cargo space, Land Rover takes the lead here. The Discovery offers 45 ft³ of space behind the second row, opening up to 82.7 ft³ with the seats folded. The Grand Cherokee follows with 36.3 ft³ with the second row up, and just 68.3 ft³ when you fold the seats down.
Power & Performance in the Land Rover & Jeep Vehicles
The next reason you're probably looking for an SUV—specifically the Land Rover and Jeep models—is for its engine power and off-roading capabilities.
The Jeep models—most notably the Wrangler—have been renowned for their off-road swagger. However, the Land Rover takes this capability and gives it an extra boost with optimum engine power.
You'll get a base V6 engine in the Land Rover Discovery that puts out 340 horsepower, not to mention can take on any road surface. The Jeep Grand Cherokee follows behind with a V6 that produces 300 horsepower, which almost reaches Land Rover standards, but not quite.
Land Rover & Jeep Technology Features
If you're also utilizing your next SUV for a family vehicle, you might be concerned with the standard technology features that'll keep your rides both safe and entertained—especially on those longer road trips.
The Land Rover Discovery comes standard with Land Rover's InControl® infotainment system via a 10-inch touchscreen display. The Jeep Grand Cherokee also comes with an infotainment system, but only a 5-inch display comes standard.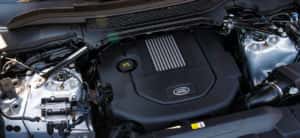 In terms of safety, both the Land Rover Discovery and the Jeep Grand Cherokee come standard with a rearview camera and rear parking sensors, along with a list of available advanced safety features. So, with either pick, you'll feel like you have a personal driving assistant while on the road.
Land Rover vs Jeep: The Results
Both Land Rover and Jeep have great models to choose from in their lineups. However, with the Land Rover's luxurious style, yet power and off-roading capabilities, we think this one is worth a test drive.
If you are in the areas of Albuquerque, Rio Rancho, or South Valley, and would like to learn more about the Land Rover models, contact us at Land Rover Albuquerque today!