Land Rover Discovery Sport Reliability

With a striking exterior and intuitive interior, the 2019 Land Rover Discovery Sport is a joy to drive around Albuquerque, Rio Rancho and South Valley. Beyond its luxury features, drivers should always consider the reliability of a vehicle when going through the buying process. At Land Rover Albuquerque you can experience the Discovery Sport and the reliability it offers.
We've put together this review to discuss some of the features that make this SUV such a dependable choice. Read on below to learn more about the safety features and performance this SUV offers.
Safety Features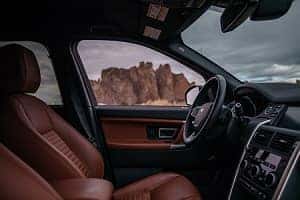 One reason you can depend on the Land Rover Discovery Sport reliability is that it provides features that keep everyone inside the cabin (and those in the vehicles around you) safe. The optional lane keep assist can detect when you might be drifting and steers the vehicle back to the center of the lane when needed.
The driver condition monitor works to consistently analyze how the car is being driven to detect when full concentration isn't being paid to the road due to fatigue or inattentiveness. If the system determines a driver is drowsy, an audible alert will sound and notify you.
The autonomous emergency braking system uses the forward-facing camera to look out for a potential collision. If a potential collision is detected, an audible warning will sound, and a visual warning will be provided, too. If a collision is still expected to occur and no action is taken, the brakes can be applied to reduce the severity of the potential crash.
Reliable Performance
Land Rover keeps up with the most demanding of expectations. The Terrain Response® is one way of doing so. This feature is standard on every Discovery Sport and adapts to the engine, transmission and differentials to provide the best possible drivability and comfort. Four settings exist on the Terrain Response® system: General Driving, Grass/Gravel/Snow, Mud & Ruts and Sand. The vehicle feels safe regardless of the surface you're driving on.
Hill Descent Control is a helpful feature, too. When heading down a difficult slope, this system kicks in to brake each wheel separately while maintaining a consistent speed.
Want to tow with the 2019 Discovery Sport? With a towing capacity of up to 4,400 lbs. and trailer stability assist technologies, it's easy to tow whatever's needed so you can get to where you want to go.
Land Rover: Reliability and Maintenance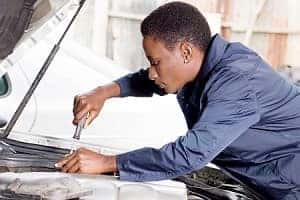 Looking to ensure the 2019 Land Rover Discovery Sport remains reliable? Taking care of all regular maintenance is a great way to do so. Visit our service center for oil changes, brake inspections and any other repairs your Range Rover may need.
It's easy to schedule service online, too. You can choose your appointment time and the individual service or repairs you need. If you have any questions, call our service center today.
Test Drive the Discovery Sport Today
Now that you've had the chance to learn about the 2019 Land Rover Discovery Sport reliability and discover a vehicle with outstanding safety features and performance, come test drive one at Land Rover Albuquerque.
Our sales team will be happy to show how the car will take on the roads of Albuquerque, Rio Rancho and South Valley. Contact us today to learn more about the Discovery Sport!