How to Flush Transmission
At Land Rover Albuquerque, we often have drivers in the Albuquerque, Rio Rancho, and South Valley areas ask us how to flush the transmission in their SUVs. It's a fairly straightforward process, but it does require a certain level of experience to ensure it's being done correctly.
The team of factory-trained and -certified technicians at our service center perform transmission flushes regularly, so they know the ins and outs of this process. We're always happy to provide this service for local drivers!
How to Flush Your Transmission in 10 Steps
Professionals use specialized machinery to make flushing your transmission simple and convenient. However, if you want to flush your transmission at home, simply follow these steps:
Inspect the vehicle for any external problems or leaks.
Place a large pan under your vehicle's transmission and open the drain plug with a socket wrench.
Once all the fluid has drained, replace the drain plug.
Locate the transmission fluid dipstick under the hood and remove it.
Place a long funnel in the transmission fluid dipstick tube and pour in the appropriate amount of new transmission fluid (you can find this amount in your owner's manual).
Locate the supply and return hoses. Disconnect and remove the supply hose.
Pump low-pressure air into the supply hose using a compressed air pump.
Connect a secondary hose to the supply hose and place the loose end in a bucket or pan.
Run the engine to allow the old, dirty fluid to run into the bucket. Keep pouring fresh transmission fluid into the transmission funnel during this process.
When the liquid coming from the supply hose runs bright red, stop the engine and disconnect the secondary hose from the supply hose. Reattach the supply hose, remove the funnel, and replace the dipstick.
Congratulations! You've just performed a transmission flush. If you have any questions about this process, feel free to reach out to our service center team.
Transmission Fluid: Flush vs Change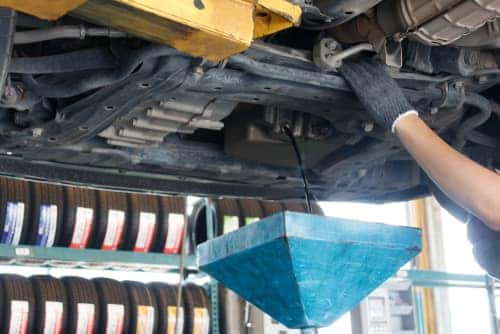 At this point, you may be wondering how a transmission fluid flush compares to a transmission fluid change. While both processes involve replacing old fluid with new fluid, they're actually very different.
Transmission fluid change: During a change, you drain the transmission fluid, replace the drain plug, and refill—essentially skipping steps 6-10 above. This tends to only replace 20-40% of the old fluid.
Transmission flush: This process runs fresh oil or a cleaning solution through your transmission, which allows you to replace 100% of the old fluid. It also removes much more dirt, debris, and sludge from your transmission.
When to Get Your Transmission Flushed
If you're having your transmission flushed by a professional, you should generally schedule this service every 30,000 miles. If you're doing it yourself, try to do it more frequently so that you don't have as much old oil to flush out.
You should be paying attention to your miles, but your car will also offer other signals to tell you when it's overdue. These include:
Transmission grinding and other odd noises
Shifting problems
Slipping gears
Vehicle surging
Movement delay
If you notice any of these signs, it's important that you schedule service with a factory-trained technician as soon as possible to avoid potential transmission damage.
Schedule Transmission Repair at Our Dealership
Still have questions about how to flush your transmission? The team at Land Rover Albuquerque can help. We're always happy to provide fluid checks and transmission repair services to drivers in the Albuquerque, Rio Rancho, and South Valley areas. Schedule a service appointment today!