How to Finance a Car

With so much to see and do around Albuquerque, Rio Rancho, and South Valley, you'll want a dependable vehicle to explore all the local hot spots.
You can easily find one at Land Rover Albuquerque since we have a large inventory to browse through. Even better, though, is that we'll be here to guide you through each step of the car-buying process.
In fact, we'll give you an idea on what that procedure looks like in this guide on how to finance a car. Read through the steps below, then contact us when you're ready to get started!
Steps to Financing an Automobile
You'll find that financing a vehicle is easy when you follow these straightforward steps:
Create a budget.
Know your credit score.
Decide on a loan term length.
Get pre-approved for a loan.
Determine a down payment.
Sign the paperwork.
Now that you know the basic steps to buying a car, let's delve into each one more carefully…
1. Create a Budget.
Before you can go ahead and purchase a vehicle, you'll need to determine how much you can afford to spend on one.
A simple way to do that is to create two columns on a piece of paper: one for your monthly income and one for monthly expenses (rent, student loans, phone bill, etc.). Add up the expenses and subtract the total from the income. The leftover amount is a good place to start for your budget.
Keep in mind, though, that your car payments will include more than just the vehicle itself. You'll also need to factor in other expenses, such as gas, car insurance, and maintenance. Therefore, it's always a good idea to give yourself a bit of a cushion when searching for a new ride.
2. Know Your Credit Score.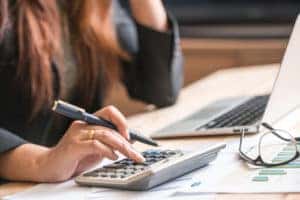 By knowing your credit score, you can get a good idea on what type of auto loan you'll be offered.
This 3-digit number ranges between 300 and 850 and comes from reports from three major credit bureaus: Equifax®, Experian®, and TransUnion®. There's different information that goes into these reports, with two of the major ones being:
Your history of making payments on time.
How much money you owe vs. the amount of credit you have available.
If you're looking to raise your credit score, you can do so by paying all your bills on time and lowering outstanding balances as much as possible (like on a credit card).
3. Decide on a Loan Term Length.
A typical car loan usually runs anywhere from 60 months to 84 months. The longer your loan, the lower your monthly payments would be. Due to this fact, many people believe that getting a longer loan term is the way to go. However, that mentality may work against you.
Yes, it's true that a longer loan allows you to pay a lower amount each month. However, it also comes with more interest. The longer you pay off your car, the more interest you'll pay. You might even get a higher interest rate, which equates to paying more for your vehicle overall.
Stick to a lower loan term (60 months is the recommended length), and you'll get higher monthly payments but lower interest. This setup will ensure that you're not paying more for the car than intended.
4. Get Pre-Approved for a Loan.
Many dealerships have finance applications located right on their website. You can fill out this secure form to get pre-approved, which would help streamline the buying process.
You simply fill out some basic information about yourself and submit it to the dealer's finance center. Then, they'll have all the paperwork ready to go by the time you make it over to the dealership.
5. Determine a Down Payment.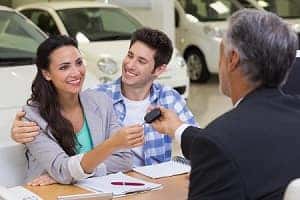 As the finance expert is going over your budget and getting the right terms for a loan, they'll also ask about a down payment.
This can come in two forms: either as cash or from a vehicle trade-in. If you're opting for the latter, you can get an estimated value ahead of time. Check out your local dealership's website to see if they have a trade-in tool.
When you bring your current ride to the dealership, a staff member will give it a good look. Then, they'll give you a value that you can put toward the total cost of your new automobile.
6. Sign the Paperwork.
At this point, you'll want to read over all the paperwork. Check that the terms on the loan look good and that the down payment has been applied.
Once everything looks good to go, you'll just need to sign on the dotted line. You'll then receive a shiny set of keys and get to drive off in a feature-rich new or used automobile!
Begin Your Car-Buying Journey Today
At Land Rover Albuquerque, we're here to make the buying process as simple and convenient for you as possible.
If you're ready to get started, contact our dealership near Albuquerque, Rio Rancho, and South Valley today.
We look forward to working with you!