How to Check Tire Treads

Your tires are arguably one of the most important parts of your vehicles. Without them, you can't get to your destinations in and out of Albuquerque, Rio Rancho, and South Valley, which is why it's a good idea to keep an eye on them to ensure they're in good condition.
One way you can do that is by doing regular tire tread checkups. Checking your tire tread is an easy three-step process. To help you get the job done, our team at Land Rover Albuquerque have put together this detailed guide. Read ahead for instructions on how to check your tire tread!
Step-by-Step Tire Tread Instructions
Checking the tread of your tires takes less than five minutes. All you have to do is follow these three easy steps and you'll be able to determine what kind of shape your tire tread is in:
Step One: Find a penny.
Step Two: Stick the penny into one of the grooves of your tire tread with Lincoln's head pointing towards the center of the tire where the wheel is.
Step Three: Look closely at where the edge of the tread lines up in reference to Lincoln's head.
You're done! Once you've followed this process, you can decode your results in the following section. Depending on where the edge of your tire tread lines up on Lincoln's head, your tread can be in a number of conditions.
This test can also be done with a quarter. This method is slightly less accurate but is a good indicator of your tread depth in a pinch.
What the Penny and Quarter Results Mean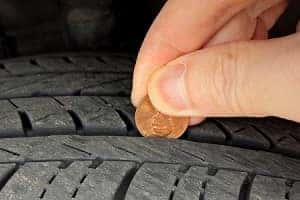 For reference, the tread of brand-new tires measure at a depth of about 10/32nd of an inch. With the results of your penny test in mind, let's take a look at what condition your tread is in using the following measurements:
If at least half of Lincoln's head is covered, then your tread is between 10/32nd and 7/32nd on an inch, meaning they're in good shape.
If less than half of Lincoln's head is covered, then your tread measures somewhere between 6/32nd and 4/32nd of an inch. This means your tire treads aren't great but can still be driven on for a while.
If just a sliver of Lincoln's head is covered, then your treads are under 3/32nd of an inch in depth. This means your treads are dangerously low and you need to get new tires.
If you went with the quarter method, the results will be a bit different. A good chunk of Washington's head should be covered. The less covered it is, the sooner you'll need new tires. Be sure to check out our service specials to see if we have any great deals on new tires!
Still Have Questions About Your Tread?
We at Land Rover Albuquerque hope this guide helped you successfully complete a tire tread checkup. If you think it might be time for some new tires after checking your tread, don't hesitate to schedule a maintenance appointment today! We're proud to help drivers in Albuquerque, Rio Rancho, and South Valley with all their tire needs.