Download the Certified Pre-Owned Checklist Today

When searching for an automobile near Albuquerque, Rio Rancho, or South Valley, there are three main types to choose from: new, used, and certified pre-owned (CPO).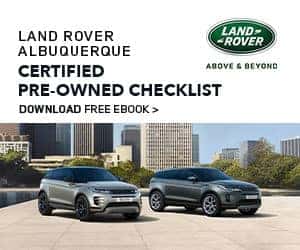 While new and used are pretty self-explanatory, CPO may need a bit of an explanation. That's why the team at Land Rover Albuquerque created a Certified Pre-Owned Checklist.
In this detailed guide, we'll break down what it means to buy CPO. This includes:
Benefits of a certified pre-owned automobile
What comes with this type of car
What goes into a multi-point inspection
We'll also go through the steps involved to buy such a vehicle. Then, by the time you visit our dealership, you'll be all ready to go through that process.
If you're interested in this eBook, plus a money-saving offer, then don't wait. Download your free copy of the Certified Pre-Owned Checklist today!