Certified Pre-Owned vs Pre-Owned

If you're looking to a buy a car near Albuquerque, Rio Rancho, or South Valley, you mainly think about buying new vs. used. However, in the pre-owned segment, you have two options to choose from: used and certified pre-owned.
You may be wondering what the difference is between them. That's why the team at Land Rover Albuquerque created this guide to certified pre-owned (CPO) vs. pre-owned vehicles. Keep reading to learn about the benefits of each, and feel free to contact us if you have any questions.
Benefits of Used Cars
Used cars come with many benefits, like getting a model you want that fits within your budget. But going the used circuit also gives you the opportunity to find exactly what you want.
That's because there are so many options at your disposal, including cars that don't even get made anymore. So, if you're wanting a really small pickup, a retro hatchback, or a classic sports car, you can find it by shopping used.
Buying used also lets you spend less initially and down the line. If you're interested in a specific vehicle, you'll most likely pay a lower amount each month for the used version vs. the new one. The down payment may be less, too, as it's recommended to put down 20% of the total cost for a new car and 10% of the total cost of a used one.
Additionally, you may pay less to register the vehicle, plus have lower insurance costs. A big reason for the latter has to do with depreciation.
A new car can start depreciating as soon as you drive off the lot and can lose up to 50% of its value within the first three years of ownership. But a used car has already gone through this process, so it can retain its value longer. This value is then looked at by insurance companies when determining rates. In the end, you'll have a better chance of paying less for insurance on a used model vs. the new version of it.
Advantages of CPO Vehicles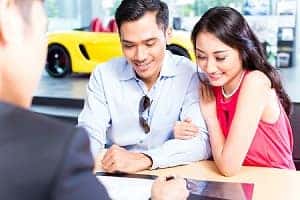 While buying used is a great option, you may want something newer with a bit less mileage on the odometer. In that case, you can go the certified pre-owned (CPO) route.
Many CPO models are no more than six years old with no more than 85,000 miles on the odometer. In order to become certified, a car goes through an extensive multi-point inspection to make sure every part is up to par with the standards set by the manufacturer. Then, once that vehicle passes the certification process, it can come with many great perks like a limited warranty and roadside assistance.
A lot of certified pre-owned cars are lease returns, which means they're only about three years old and probably have been driven no more than 36,000 miles. Plus, lease vehicles should be well-maintained without significant modifications or damage, to keep to the terms set by the lease agreement. As a result, you can rest easy knowing this type of car is still in good condition.
As we mentioned before, CPO vehicles go through detailed inspections to make sure that everything is in proper working order. This includes going over every major system with a fine-tooth comb, like the engine and transmission.
Plus, vehicles that have been in a major collision aren't usually recommended for a manufacturer's CPO program. So, there's a good chance that the car you want hasn't had any major frame or body damage.
Check Out Our Pre-Owned & Certified Pre-Owned Cars Today
When it comes to buying certified vs. used, both types have their advantages. But if you're still not sure which is right for you, then let the experts at Land Rover Albuquerque help.
We'll walk you around our lot, so you can see what pre-owned automobiles we have available. You'll also get to test drive some cars to see which one is right for you. Then, you'll be driving home to Albuquerque, Rio Rancho, or South Valley in an impressive used or certified pre-owned vehicle before you know it!