Top Yoga Studios near Me in Albuquerque NM

Having a regular fitness regimen is important for your health and your strength. However, if you find gyms a bit stuffy, uncomfortable, and filled with ego, you may want to try something else out. Yoga has been becoming increasingly popular due to the health benefits, but also because this style of fitness incorporates spirituality, tranquility, and meditation.
If you're looking to get started on a yoga journey, you're in luck because we've assembled this list of the top yoga studios near you in Albuquerque, NM!
Bhava Yoga Studio
520-A Central Avenue Southeast, Albuquerque, NM  Facebook
The word "Bhava" means a place for finding inspiration, which is exactly the type of motivation that you'll get at a class with Bhava Yoga Studio. There are several instructors at this studio who not only inspire, but take the time to help each student through their poses and styles. There are plenty of different classes to choose from, including Flow & Restore, Yin Yoga, Restorative Yoga, and Yoga for Breast Cancer Survivors. You can even choose private lessons to get the full experience to help you catch up with the seasoned students.
Hot Yoga Downtown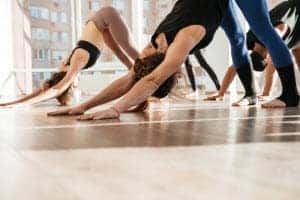 724 Central Avenue Southeast, Albuquerque, NM  Facebook | Instagram
The goal of the staff at Hot Yoga Downtown is to help heal the body on the inside and out through heated yoga. The room is brought to 105-110 degrees to help increase flexibility while allowing you to release toxins in your skin. They offer several classes designed for varying skill levels, including Hot Power Vinyasa, Gentle Warm Yoga, and Advanced Asana. Each instructor is friendly, courteous, and happy to help demonstrate the proper moves, poses, and etiquette for each new student to help them along.
 SWEAT Yoga Studio
4500 Osuna Road Northeast, Suite 200, Albuquerque, NM   Facebook | Instagram
They say that if you're not sweating, you're not doing it right. Well, you can certainly do it right at SWEAT Yoga Studio. This studio encompasses the hot yoga belief in that the high temperatures add several health benefits to the process. They offer several different classes ranging in difficulty and length, so you can plan your experience based on what you're looking for. There's Flow for the basics, Static for variety, and Restore for calming and meditation. They even offer daycare sessions so you can enjoy your yoga experience without having to worry about your little one.
Are you ready to get started on your yoga adventure? Try any of the best yoga studios near you in Albuquerque to find the one that's the perfect fit!