Where to Get Tasty Sandwiches near Me in Albuquerque NM

When it's time for lunch, you could have a standard PB & J or ham and cheese. Or, you can have something a bit more unique that's equally tasty.
If you're not sure where to go for that midday meal, we'll help you out. Keep reading to discover the best places for sandwiches near you in Albuquerque, NM.
Al's Big Dipper: Sandwiches That Really Shine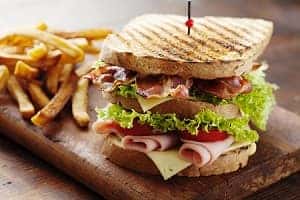 At Al's Big Dipper, you'll find tasty sandwiches with simple, fresh ingredients. It's been around since 2010 and serves tasty sandwiches with no gimmicks. Plus, they have daily specials, rotating soups, and unique cookies, like bacon chocolate, that they like to throw in with your lunch.
If you want a hot sandwich, get Randy's Rant: salami, fontina, parmesan, and arugula pressed on a croissant. If you prefer your lunch cold, then get Little Sis's Tuna: albacore tuna, apples, parsley, avocado, and mayo on sourdough bread. Add in a cup of soup, some slaw, and a cookie, and you have the makings of a perfect meal.
Check out what specials they're offering today on Al's Big Dipper Facebook page.
Baggin's: Mixing Things Up to Keep You Coming Back
Alberto Rivera, owner of Baggin's, was born and raised in the Bronx in New York. However, a visit to the Albuquerque area changed everything, and he moved there permanently to open up this sandwich shop.
Everything here is made in-house, and the sides and desserts are made from scratch. They have lots of specialty cold sandwiches to choose from, such as the California BLT. Crisp bacon, cream cheese, mayo, lettuce, tomato, and avocado are served on 12 grain bread. Plus, you can get half a sandwich with a deli side, chips, or soup and a fountain drink for a full meal.
Also, don't forget about dessert! They have lots to choose from, but we highly recommend the fudge brownie that's loaded with chocolate chips and a swirled cream cheese topping.
For more information, visit Baggin's on Facebook.
Relish: Old Classics Mixed with New Favorites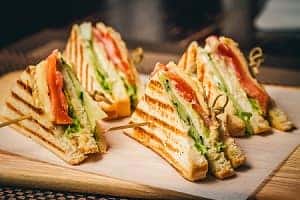 Relish has been around since 2004, serving freshly prepared gourmet sandwiches to Albuquerque residents and visitors. Boar's Head meats, premium cheeses, and newly baked breads from Le Paris Bakery are what you'll find in these sandwiches. Plus, fresh soups, pasta salads, and cookies round out everything for a truly delicious meal.
All their sandwiches are quite tasty. However, you really have to try their best-selling sandwich, the Cubano Especial. This one consists of chipotle-roasted pork, honey ham, Swiss cheese, dill pickle, and chipotle pressed in a baguette.
Check out more menu options on the Relish Facebook page.
Stop by for Lunch Today
As you can see, all three sandwich spots are great for nabbing a quick and tasty lunch. So, if you forget to pack a lunch for work, don't worry. Just stop by any of these Albuquerque, NM, sandwich shops today!