Spend Time with the One You Love near Albuquerque NM


February 14th marks an important time in one's relationship. It's when you make the extra special effort to proclaim your love for each other. So, why not mark this occasion with a fancy, romantic dinner?
While there are many to choose from in the area, we think the following are some of the best. So, keep reading to see what we think are the top romantic restaurants for Valentine's Day near Albuquerque, NM!
Jinja Bar & Bistro: Where You're Transported to the Pacific Islands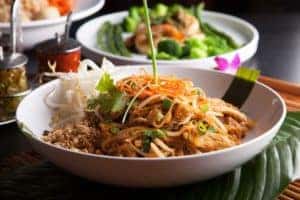 Although Jinja Bar & Bistro has a location in Albuquerque, eating here will make you feel like you're in the Pacific Islands.
The food and drinks contain the fresh flavors that you'd find in the Pacific Islands region. In addition, you'll get to enjoy dinner in a relaxing atmosphere, where the staff will show great hospitality. The result is a nice Valentine Day's dinner where you can "leave some of those everyday distractions…behind."
For dinner, you can indulge in some noodle dishes, such as Pad Thai or Chow Fun Chili Noodles. Or, you can get one of their signature meat dishes, like the Mongolian Beef, with wok-seared beef tenderloin, red and green bell peppers, and green onion stalks in a rich garlic ginger sauce.
Check out some of the tasty-looking dinner options on the Jinja Bar & Bistro Facebook page.
Los Poblanos: Have a Romantic Dinner Set in a Garden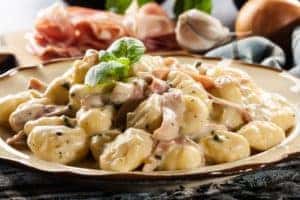 Los Poblanos is located in a historic inn and organic farm. With 25 acres of lavender fields and lush formal gardens, you'll have a stunning backdrop for your Valentine's Day dinner. Then, you can spend a night in the inn, which has 50 guest rooms and plenty of amenities.
They even have a Farm Shop, where you can purchase one of their lavender products, such as honey, hand soap, and body wash. There are also books, jewelry, and home décor to peruse through and possibly take home.
The dinner menu is seasonal, so the dishes do change from time to time. Still, one meal you could get is the Lavender Chicken Breast with garlic, herbs, winter squash, and greens. Or, you can enjoy some Potato Gnocchi, with green chile, celeriac, and winter herbs.
For more information, check out Los Poblanos on Facebook.
Yanni's Lemoni Lounge: Enjoy True Mediterranean Cuisine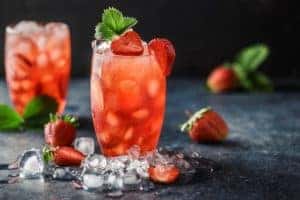 If you love Mediterranean food, then you'll want to book your Valentine's Day meal at Yanni's Lemoni Lounge. Here, you'll enjoy fine dining at a restaurant "where tradition and taste is everything."
This establishment in historic Nob Hill prides itself on supplying hand-cut black angus steaks, local meats, and fresh seafood. They also have a privately owned garden to grow organic vegetables for their various dishes.
You can try one of their traditional Greek dinners, like the Dolmathes Avgolemono. Grapes leaves are stuffed with beef and rice and served with avgolemono sauce (a Greek egg lemon sauce) and rice pilaf. You'll then want to pair your dish with one of their house-made cocktails, including the Dragon Lemonade: Bacardi Dragonberry, fresh lemonade, and fresh strawberries.
Learn more on Yanni's Lemoni Lounge Facebook page.
Treat Yourself to a Delicious Dinner This Valentine's Day
Valentine's Day will be here before you know it, so you'll want to make your dinner reservations as soon as possible. Contact any of the above restaurants near Albuquerque, NM, and book a table today!