Range Rover Evoque Lease

At our Land Rover dealership near Albuquerque, Rio Rancho, and South Valley, we have lots of vehicles to lease, including the Range Rover Evoque. Below, we'll go over the benefits of a Range Rover Evoque lease. We'll also tell you a bit more about this impressive SUV, including some of the features available in each trim level.
Read through our informative guide below, and don't hesitate to contact us at Land Rover Albuquerque if you have any questions.
Benefits of Leasing a Range Rover Evoque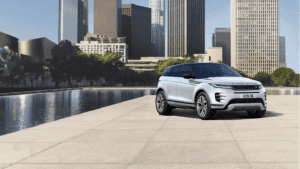 If you're always looking for the latest and greatest features, then you may want to consider leasing. A lease term typically lasts for three years, which means you'll stay ahead of the curve when it comes to new technologies and safety features.
Plus, you'll generally be paying less per month than if you were financing the car. When you lease a vehicle, you're paying for its depreciation, along with taxes and other fees. However, if you'd bought the car, you'd have to pay off its entire cost in addition to those other fees.
Another great thing about leasing is not having to think about major maintenance or repair work. Since you'll only have the car for a few years, it'll simply need oil changes, tire rotations, and other standard automotive work. By getting these simple maintenance tasks completed at our Range Rover dealer, you'll have a well-running machine for the duration of your lease term.
Land Rover Range Rover Evoque Specifications
If you're interested in leasing a great off-roader with a high-quality cabin, you may want to consider the Evoque and learn more about the specs of this luxury SUV.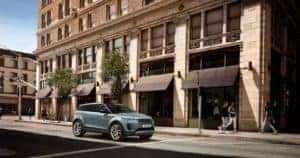 This SUV comes standard with Terrain Response® 2. The system will automatically choose among four settings, so that you feel sure-footed on various terrain or weather conditions:
General Driving
Grass/Gravel/Snow
Mud & Ruts
Sand
An optional fifth setting, Adaptive Dynamics, will adjust the suspension to deliver tighter body control with flatter handling and sharper responses.
Hill Descent Control is another feature that helps with off-roading. It'll maintain a constant speed and apply braking separately to each wheel to help you stay in control when descending a difficult slope. Hill Launch Assist, meanwhile, will help stop the SUV from rolling backwards when on an upward incline. Plus, Gradient Release Control will help prevent the car from accelerating too quickly on a steep downward incline when you release the brake.
Then there are the interior features, which we'll break down by trim level.
Range Rover Evoque S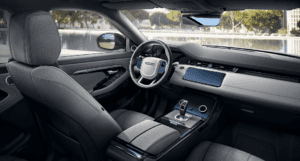 The base trim comes in two body styles: the standard Evoque and the R-Dynamic style. Inside, you'll find 10-way electric front seats with grained leather upholstery. Not only does this seating look sophisticated, but you're sure to feel nice and relaxed behind the wheel.
You can then take advantage of the various high-tech features found inside the S trim. This includes the Touch Pro™ infotainment system. All your media options are displayed nicely on a 10-inch screen, and the fully customizable home screen lets you choose which functions are front and center.
Evoque SE
Then there's the Evoque SE, which is also available in the previously mentioned body styles.
Like the S trim, this one comes with a Smartphone Package. By utilizing Apple CarPlay® or Android Auto™, you can access your favorite mobile apps through the vehicle, so you don't need to mess with your phone while driving.
Similar to the base trim is a nice list of driver-assisting technologies. Between Lane Keep Assist and a Driver Condition Monitor, you can feel secure knowing that the vehicle has your back.
However, unlike the above trim level, the SE comes with a Touch Pro™ Duo infotainment system. This one comes with upper and lower 10-inch screens, letting you access multiple features at once. For example, you could use the navigation system up top while playing with the music or phone options on the bottom at the same time.
Evoque HSE

Next up is the Range Rover Evoque HSE, which is only available in the R-Dynamic body style.
With this trim, you have 16-way electric memory front seats with perforated Windsor leather upholstery. Plus, with the available heating and ventilating functions, you can feel comfortable any time of the year.
This trim offers even more driver-assisting technologies. One of them is a Park Package that includes:
Clear Exit Monitor
Park Assist
360 Degree Parking Aid
When the vehicle is equipped with these features, you'll have everything you need to park anywhere like a pro.
You can learn more about the many features with our 2020 Range Rover Evoque review…
How to Lease the Evoque
No matter which Evoque trim you decide on, you'll have a highly capable and feature-rich automobile. Plus, leasing one is quite simple when you work with the team at our finance center.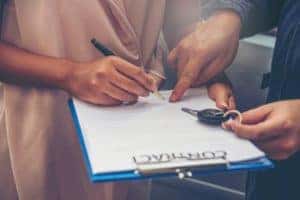 We'll cover every part of your lease agreement, answering any questions along the way. Also, if any Range Rover Evoque lease deals are available, we'll go over those details in full.
We'll help you pick an appropriate mileage package, too. This will all depend on your daily commutes. If they're on the shorter side, 10,000 miles per year would suffice. Otherwise, you may want to consider getting a 12,000- or 15,000-mile-per-year package.
Our team will then go over various vehicle protection plans that you could add to your agreement. These are optional and can cover you for any unexpected repairs that may be needed.
After you've read over your lease and everything looks good to go, you just sign on the dotted line. We'll then happily hand over the keys and have you drive home in a brand-new Evoque.
Lease a Range Rover Evoque Today
If you're interested in a Range Rover Evoque lease, we can help! Visit the Land Rover Albuquerque Finance Center, and we'll go through all the leasing options available. Plus, we'll help get the drivers of Albuquerque, Rio Rancho, and South Valley a monthly payment plan that they'll feel good about.
Contact us today to begin the leasing process!
Searching for the latest offers...