Community Spotlight: Brickyard Pizza


Brickyard Pizza has been serving hungry and thirsty folks in Duke City since 2004. With a full menu that's sure to knock your socks off and a fun experience that's hard to beat, Brickyard is the perfect place to unwind and enjoy some food with great people.
The Famed Blue Ribbon Special
Hailed as Albuquerque's best-kept secret under $5, Brickyard offers the ever-popular Blue Ribbon Special. For just $4.75, you can gorge on a jumbo slice of cheese pizza and a pint of Pabst Blue Ribbon, which has people coming from all over just to take advantage of this deal. Pizza and beer for under a Lincoln? Can't get much better than that.
There's Always Room for Pizza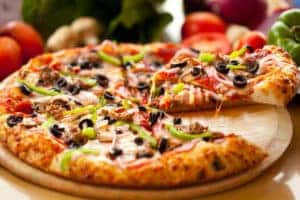 People come to Brickyard for the pizza, but they stay for the atmosphere…and more pizza. Their signature pies are available from personal size up to 20 inches, and they include traditional hand-tossed crust or XL deep dish.
You can start by building your own pizza with tons of fresh veggies, meats, and cheeses, or opt for one of their signature or specialty pizzas. These include meat lovers, veggie, BBQ chicken, Margherita, and Hawaiian. However, their LOBO is a local favorite, which features pepperoni, sausage, and green chilis.
More Than Just Pizza
Not feeling pizza? Not to worry—Brickyard has a menu full of delicious items to curb your cravings. Start off with an order of chicken wings or a fresh salad, which are available in small and large sizes.
You're also met with a full menu of sandwiches, like the Brickyard Dip. With this one, perfectly sliced roast beef mingles with sautéed onions and mushrooms, and is then covered in melted cheese and served up with a side of hot au jus.
Don't Forget the Drinks (and Dessert)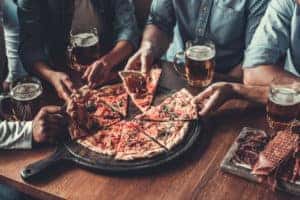 Whether you're grabbing a PBR or craft cocktail, Brickyard has you covered. With specialty drinks that focus on flavors that mesh ideally with tequila and bourbon, you'll be in libation heaven. They also feature handmade beverages that include spirits like vodka, whiskey, gin, and more. Plus, there's a full selection of soft drinks for those looking to imbibe.
No meal is finished without dessert. Choose from ice cream, a pizza cookie, or a root beer float. For the adult, they even offer their Brickyard Float, which takes vanilla ice cream and tops it with a vanilla porter or Guinness.
Great Food, Great Drinks—What More Could You Want?
Stop by Brickyard Pizza today and find your new favorite dish! No one is going to judge you if you add on a cocktail or beer—or a few.