Land Rover Discovery Sport Interior Review

The Land Rover Discovery Sport has plenty to offer drivers in Albuquerque, Rio Rancho, and South Valley. So, our team at Land Rover Albuquerque wanted to hone in on the inside of this dynamic SUV for this interior review.
From space to comfort and advanced technology features, you'll learn the ins and outs—or technically, just the "ins"—of the Land Rover Discovery Sport. Then, contact us to find out how you can test drive one today and see for yourself if this luxury ride is right for you!
Discovery Sport Interior: Space & Comfort
You may be considering using your Land Rover Discovery Sport as a family vehicle. If that's the case, you're guaranteed to have some extra riders. The Discovery Sport offers plenty of passenger space and comfort, so your riders will find the ultimate coziness on even your longest drives.
With available heated seats in the second row along with a cabin comprised of high-quality, soft touch materials, you'll understand the difference a luxury SUV can make.
Also, highway drives won't wake the kids due to the cabin's quiet ride. This model seats five passengers, but you can opt for the third row to bump this number up to seven. With 37.3 inches of legroom in the second row, even your tallest riders will have room to stretch out.
As if that's not enough, you can also opt for Homelink® system in your Land Rover Discovery Sport. It comes with a universal transmitter, which can be programmed to run up to three separate wireless systems. With this setup, you can use Homelink® to open your garage door remotely, turn on your house lights, and even set your alarm from the comfort of your vehicle. It's a handy tool that makes life just that much easier for drivers.
Cargo Capacity
The Discovery Sport stands out in its class when it comes to cargo space. Whether you're going on vacation or simply to the grocery store, you'll have plenty of space to load up those extra bags. With an impressive 34.6 cubic feet of space behind the backseat, the Discovery Sport offers tons of cargo room and that's before folding the seat down.
With the back row down, you'll open up to 62.75 cubic feet of space, so you can go pick up that big piece of furniture you've had your eye on. With all this extra room, you might have your hands full, which is where the powered gesture tailgate feature comes in to help. Just simply kick your foot underneath the tailgate, and it'll automatically open and close for you!
Discovery Sport Interior: Style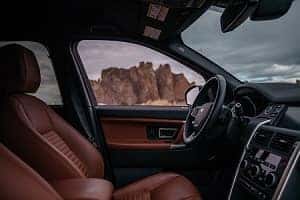 With the signature style that Land Rover is known for, the Discovery Sport has a distinct look and features that you're sure to love.
The available sliding electric or fixed panoramic roof is a great option for those who want to shed a little (natural) light on their passengers. The sunroof is so big that even those in the third row will be able to experience it.
Additionally, the glass is built for comfort as well as style. It's tinted to keep your cabin from getting too warm, so you can soak up the sunshine while keeping cool. For added privacy (or to cool off on an especially hot day), powered interior blinds are ready to cover things up when needed.
"Tech-ed Out" Interior in the Discovery Sport
This Land Rover offers the latest when it comes to advanced technology features. With an available 10-inch touchscreen infotainment system equipped with navigation and smartphone accessibility, you'll always be connected while on the road.
The available Touch Pro™ navigation system is a powerful tool for getting exactly where you want to go. You get real-life traffic information, so you can avoid any delays in your route and look at street-level images to get a clear picture of where you're headed.
If you download the Route Planner app for your smartphone, traveling is even easier. You can send the directions directly from your phone to your car, so you always know you're heading in the right direction!
The available Head-Up Display is a neat feature for technology fans. It takes important information about your vehicle, including gear selection, your speed, and even navigation directions, and projects them directly on your windshield. With this feature, you can know everything that's going on in your car without taking your eyes off the road. This feature is available on the HSE and HSE luxury trim levels.
Land Rover Discovery Safety Features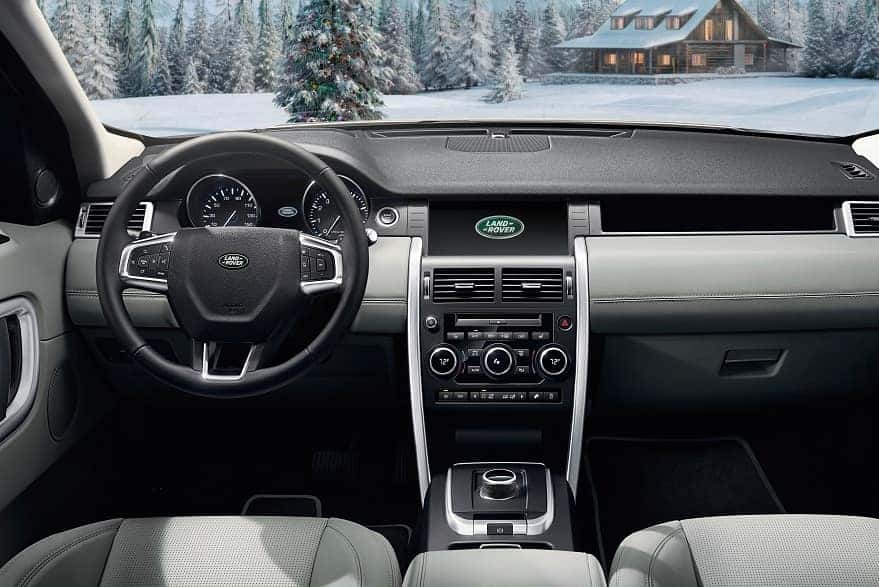 With a ton of advanced driver-assistance features, you'll feel like you have an extra set of eyes while on the road. The Discovery Sport comes packed with an assortment of options, including systems specifically designed to make parking easier than ever before.
The rearview camera provides comprehensive visibility whenever you're backing up or hitching a trailer to your car. The touchscreen displays gridlines, which help you direct your car as you back into a tight space. It's a great way to stay completely aware of your surroundings while out on the road.
As if that's not enough, there's also optional Park Assist to make parking in tight spots easier than ever. It actually automates portions of the parking process, so you can let go of the steering wheel while the system fits you into that spot quickly and easily. Sensors pick up on vehicles and objects nearby, so you always know what's around your car and can slip into that tight spot without a problem.
Test Drive the Land Rover Discovery Sport
If you think the Land Rover Discovery Sport interior has what you're looking for in your next luxury SUV, come take a test drive today at Land Rover Albuquerque. Simply fill out our online contact form, and we'll be in touch to set up an appointment.
We've helped drivers from Albuquerque, Rio Rancho, and South Valley, and we can't wait to help you find the right vehicle for you and your family. We're ready to help with all your car-related needs, so be sure to visit us today!