Car Battery near Me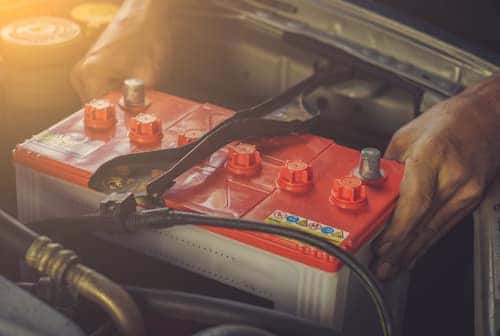 Has your car been having trouble getting started when you turn the key in the ignition? That sputtering coming from the engine could be a sign that you need a car battery replacement.
Luckily, this is a quick and easy service that the team at Land Rover Albuquerque can take care of for the drivers of Albuquerque, Rio Rancho, and South Valley in no time. Our service center is staffed by a team of highly trained professionals who can help you with whatever your car needs.
Continue reading to learn when and where to get a car battery replacement near you, and don't hesitate to contact us if you have any questions.

How Long Does a Car Battery Last?
How to Check Your Car Battery Voltage
How to Clean Car Battery Terminal
When Should I Get a Car Battery Replacement?
Your car battery near Albuquerque should last about two to five years, depending on how you use your car and on a number of other factors. One major factor in battery life is the climate in which you live. Extreme heat and cold can take a toll on battery effectiveness over time.
Thankfully, there are a few steps that you can take to easily make your new car battery replacement last a lot longer…
How to Make Your Car Battery Last Longer
Once you get your car battery replaced, you'll want to take good care of it, so it can last you for a few years before it needs to be changed again. This will save you money on replacements and will also keep you on the roads for longer since you'll stay out of the shop.
Keep It Clean.

Over time, your battery will likely develop some corrosive buildup. This is normal, but you'll still want to remove it in order to keep the battery's connection to the engine nice and strong. You can easily remove the buildup at home by using a solution of baking soda and water and scrubbing the battery terminals with a stiff brush. You can also seek help from a mechanic to get your battery clean.

Avoid Short Trips.

This is the most important rule! Each time you take your car on a drive, it needs enough time to get the battery fully charged. A car that isn't driven often enough or that only takes very short trips will never have a good amount of battery power. Be sure to take your car out for a drive longer than 15 minutes as much as you can.

Turn the Electronics Off.

A car battery provides power for all the lights, as well as the audio system. If you accidently leave your lights on or listen to the radio when the vehicle isn't on, then that'll drain the battery. Adapters that charge mobile devices can also quickly drain the battery.
Therefore, you'll want to make sure that all the lights are turned off and every external cable is unplugged before exiting your car. You'll also want to avoid keeping the radio on after the car has been shut off.
By being mindful of all the electronics inside your Land Rover, you can help extend the battery's lifespan.
Where to Buy a Car Battery near Me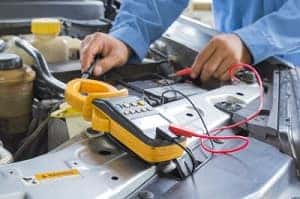 While the above tips will help lengthen a battery's life, there will come a point when a car battery replacement is needed. This is especially true if the battery case is swelling or bloated, or if the engine cranks more slowly than usual.
If you need a new battery, then bring your car to our state-of-the-art service center in Albuquerque. Here, our technicians will outfit your vehicle with a genuine OEM battery. This is to make sure that the car continues to run well for many years and miles.
We'll also make sure that the battery is the correct size and type and that it does well in a cold-cranking amp test. Plus, we'll put a brand-new battery inside your Land Rover. Since batteries can lose strength over time—even in storage—we don't put in used car batteries in any vehicle that we work on.
Schedule Car Battery Replacement near Me
Are you ready to get your car battery replaced, so you can get back to driving around Albuquerque, Rio Rancho, and South Valley? If so, then contact Land Rover Albuquerque, one of the premier car battery dealers near you.
Don't wait. Schedule your battery replacement appointment today!