Best Irish Bars to Celebrate Saint Patrick's Day in Albuquerque NM
Even though Albuquerque, NM, has a year-round southwestern theme, when it's Saint Patrick's Day, everybody's green! If you're trying to find the right place to celebrate this cultural holiday, we're here to help you. We came up with a list of some great pubs in town for you to check out for the celebrations.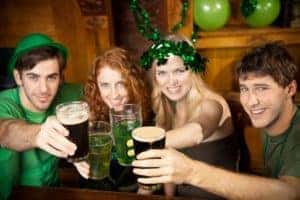 Here's our picks for the best Irish bars to celebrate Saint Patrick's Day in Albuquerque, NM!
O'Niell's Irish Pub
4310 Central Ave Southeast, Albuquerque, NM   Facebook
When you're looking for an Irish bar in ABQ, O'Niell's Irish Pub is a great place to go, especially for the holiday. This bar encompasses a strong sense of community while providing patrons with a plethora of drink options, as well as some great items on the menu. You can snack on some Irish egg rolls, enjoy the flavorful lamb stew, or sample some Irish classics like Guinness bangers and mash, fish and chips, or Shepherd's Pie to really set the mood for St. Patty's Day. They also have a location in Heights on Juan Tabo Boulevard!
Quarter Celtic Brewpub
1100 San Mateo Boulevard Northeast, Suite 50, Albuquerque, NM   Facebook  |  Twitter
If you're a local craft beer lover, you may want to head to Quarter Celtic Brewpub. This pub and brewery makes their own beer that encompasses a variety of local flavors, as well as a few authentic ingredients inspired by the motherland. You can sip on some Crimson Lass, an Irish Red Ale, or savor the complex flavor of the MacLomas Stout. They also have a great menu featuring several iconic Irish dishes, including Banger in a Bun, Dublin fish sandwich, and some interesting options like quarter porter stew, Brewer's Beef, or the smoked sausage and cabbage.
Two Fools Tavern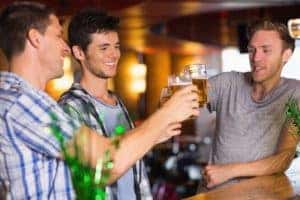 3211 Central Avenue Northeast, Albuquerque, NM   Facebook  |  Twitter
Two Fools Tavern takes the Irish pub concept and elevates it, transforming its square footage into an authentic Irish tavern, complete with a stone fireplace, classic wooded bar and booths, and several flags and symbols to make you feel like you arrived in Belfast. They carry several porters, ales, and stouts for you to choose from to get the authentic flavors. They also have an extensive menu with great options from traditional American bar fare to Irish cuisine, such as Scotch eggs, Guinness beef stew, Killarney frilled chicken, and corned beef and cottage. You'd be a fool to miss out on this tavern for St. Patty's Day!
If you're seeking out some Irish bars in Albuquerque for Saint Patrick's Day, these are the best ones that you'll find. Have a safe and happy St. Patty's Day!