Best Gyms near Albuquerque to Continue Your New Year's Resolution
Now that the New Year is here, you're probably taking every step to ensure that you stick to your resolutions. Commonly, getting into shape is the number one resolution that people choose. While it can be difficult to get into a strict regimen, it all depends on where you get your exercise in.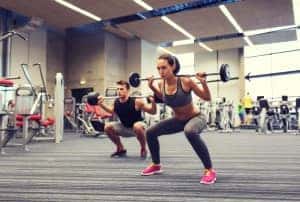 We did some research and found some great places that can help you achieve the results you want. Here's the best gyms near Albuquerque to continue your New Year's resolution.
Baby Boot Camp
5916 Anaheim Avenue, Northeast, Albuquerque, NM  Facebook  |  Instagram
A lot of mothers find it difficult to squeeze in a workout due to their busy day and hectic schedule. Luckily, Baby Boot Camp in Albuquerque offers "mommy and me" exercise programs, so you and your little one can work out and work towards seeing results. There are stroller fitness classes, birth recovery classes, Diastasis repair, restore the core, and several different running programs that you can sign up for to help you keep true to your resolutions.
Crossfit Albuquerque
6501 Eagle Rock Northeast, Suite 2-B, Albuquerque, NM   Facebook  |  Instagram
When you want to take your fitness seriously and push yourself towards achieving your goals, Crossfit Albuquerque is the place to go. They offer a variety of classes ranging in difficulty and intensity. There's the standard interval training, endurance training, and even Olympic weightlifting. They've even got personal training, if you need more of a one-on-one kind of instructional experience. You'll definitely feel the burn, but you'll also see the results at Crossfit Albuquerque.
Titanium Fitness
2731 Broadway Northeast, Suite B, Albuquerque, NM    Facebook  | Instagram
Titanium Fitness in Albuquerque offers a boot camp experience that delivers results. They take the fitness experience seriously by offering several classes, programs, camps, and challenges designed to tackle the important areas while helping you improve your strength, stamina, core, and endurance. They even have nutrition programs to help you figure out the best food to eat to help you achieve your results and live a healthy lifestyle. Their coaches and instructors are dedicated at helping you stay true to your New Year's resolutions.
Are you excited to stay with your resolutions and work towards the body and lifestyle that you want? Check out any of these great gyms in the Albuquerque area. so you can get started and see the results!