Sink Your Teeth into the Best Burgers near Albuquerque NM

It's no secret that people love burgers. They're thick, juicy, and can be loaded with all kinds of toppings. Plus, they're easily accessible, and found almost anywhere in the area.
While it may be simple to get a burger, you deserve a high-quality one. That's why we recommend the following places for the best burgers near Albuquerque, NM.
Five Star Burgers: Keeping Things Tasty & Environmentally Friendly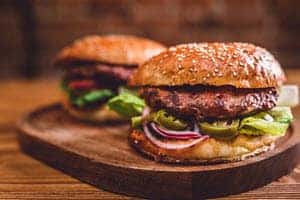 At Five Star Burgers, you'll only find all-natural, hormone- and antibiotic-free beef. So, not only is the Black Angus Beef tasty, but it's made from ethically treated animals from local farmers.
Everything is made fresh, and the meat is ground daily to ensure that it's consistently tender and delicious. Plus, the kitchen uses energy-efficient equipment, while the frying oils are recycled from bio diesel fuels. Their goal is to have everything be environmentally friendly, and they've certainly achieved that.
But, we're sure you want to know more about their burgers. They have lots of tasty options. But, if the night before was especially long, then you'll want to get the Breakfast of Champions. It comes with a sunny side-up egg, American cheese, hollandaise sauce, and chopped bacon tomato jam.
Check out more menu options on the Five Star Burgers Facebook page.
Grassburger: Food That Caters to Everyone
If you're looking for delicious food that you can feel good about eating, then you'll love Grassburger. The sodas, sauces, dressings, and condiments are made without corn syrup. The ice cream shakes are made with fresh and real ingredients. And the food caters to those who follow vegan, paleo, and gluten-free diets.
But, they also have classic burgers for the meat eaters, made from 100% USA Grass-Fed Beef. You can get options like the Chedda' Burger or Green Chile Jackburger. And they'll place it in a potato bun, lettuce wrap, or gluten-free bun.
If you're really hungry, make it a combo meal and add fries and a fountain drink. Then, cap the meal off with a freshly baked Alpendough cookie in flavors like Chocolate Chip and Snickerdoodle.
Visit Grassburger on Instagram for photos of their delicious-looking meals.
Holy Burger: With a Menu That's Quite Heavenly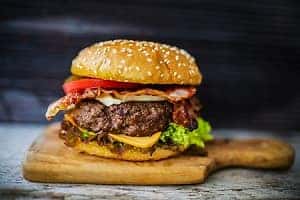 Holy Burger may have a small menu, but the items are big on flavor. Plus, they have lots of drink options, from several beers on tap, to various red and white wines.
For the non-drinkers, you can enjoy a fountain soda, tea, coffee, or one of their Heavenly Milkshakes (we highly recommend Butterscotch Pudding).
For the food, you have to get one of The Good Book Burgers. You definitely can't go wrong with the Holy Cow Burger. The meat is prepared medium and topped with Pecanwood smoked bacon, American cheese, and Thousand Island dressing.
For more info on this establishment, check out Holy Burger on Facebook.
Visit One of These Burger Joints Today!
We don't blame you if your mouth is starting to water. So, hop in your car, and head to one of these burger spots near Albuquerque, NM, today!