Where to Get Handcrafted Beers in Albuquerque NM

When it comes to beer, many are turning to breweries to enjoy a good, cold glass. This is because more and more beer lovers are interested in full-flavor beers like Belgians and India Pale Ales.
The following breweries are keeping up with the trends, constantly evolving styles to keep customers coming back for more. So, if you're interested in a unique craft beer, then check out the following best breweries in Albuquerque, NM…
Beer Brewed in the American Southwest
At Bow & Arrow Brewing Co., they brew "wild, sour, and barrel-aged beers in the heart of the American Southwest." The brewery was founded by Shyla Sheppard, who decided to leave her corporate job to pursue her love of craft beers.
Here, you'll find lots of great-tasting beers, including the popular Rancho Bizarro. It was inspired by a small ranch in New Mexico, that has training/rescue grounds for wild ponies. This sour ale gets aged for over eight months in red wine oak barrels, resulting in a bit of a sour taste with notes of dried cherries.
Learn about their other beers on the Bow & Arrow Brewing Co. Facebook page.
World-Class Beer & Sculpture Garden
Dialogue Brewery celebrates craft beer, tasty food, and beautiful art in the heart of Albuquerque, NM. You can enjoy a beer outside in the sculpture garden. There are various food trucks to get some good grub, like Nate's 66 Grill Food Truck. And they have great events throughout the year, like live entertainment.
They have lots of beers on tap, including a Belgian Citrus IPA that has notes of clove and banana mixed with lemon, lime, orange, and grapefruit. Plus, Columbus and centennial hops add a pleasant earthiness to the drink.
Learn more on the Dialogue Brewery Facebook page.
Live Bold & Join the Adventure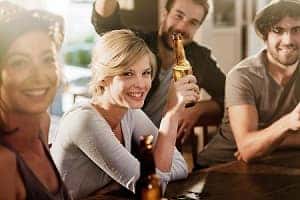 If you're looking for a place with beer, food, music, and events, then you'll love Rio Bravo Brewing. It was founded by Randy and Denise Baker for their genuine love of people. Not only do they love serving the community, but seasoned home brewer Randy gets to take his passion for craft beer to the next level.
Here, you'll find beers like La Luz Lager, Randy Shandy, and Snakebite IPA. There's food like the Firestone Nachos. Tri-colored tostada chips are smothered with beans and queso. They're then served with fresh pico de gallo, jalapenos, and siracha sour cream and can be topped with beef or chicken.
Furthermore, there are lots of fun events throughout the year, such as Brain Gang Trivia, Comedy Night, and various musical acts. You can check out more on the Rio Bravo Brewing Facebook page.
Get Some Craft Beer in Albuquerque NM Today
If you're in the mood for a flavorful and unique beer, then don't wait. Stop by any of these Albuquerque breweries today!